2018 in Review: 9 questions to help you process and reflect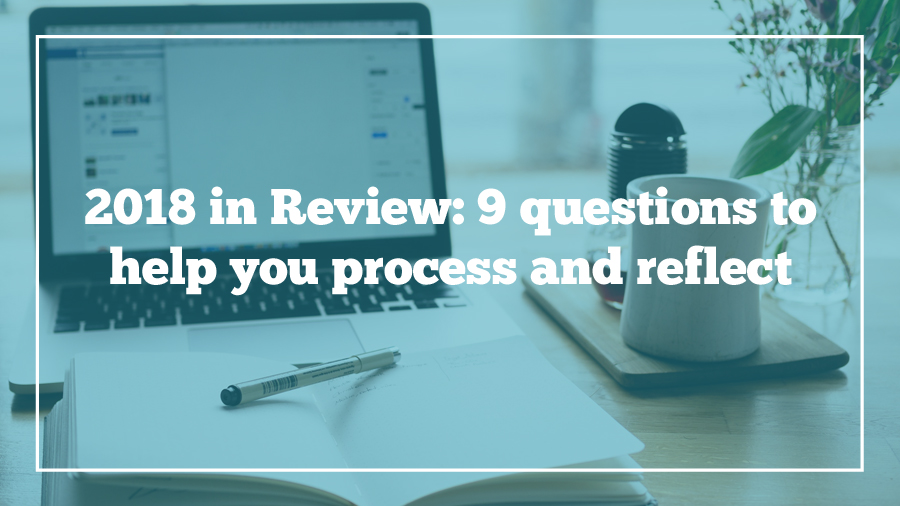 Welcome to the last Otaku Journalist post of 2018.
Usually, I mark the end of the year with a holiday shopping guide for anime fans, or some remarks on Otaku Journalist's birthday (turned nine in November!), I've decided to wrap things up a bit early this year. As a freelancer, my work grinds to a near halt after Thanksgiving and doesn't pick up again until January. I've decided to take advantage of that by visiting friends and family, traveling for the holidays, and celebrating at least 5 birthdays including my own.
The end of the year is a particularly arbitrary benchmark into which I assign a LOT of importance. My New Year's Eve ritual involves at least an hour of journaling on what I learned in the past year and what I hope to accomplish in the year ahead.
And so, for this last post, I'm revisiting an exercise I started last year, and which I encouraged readers to join in on, too: looking at my year through nine questions. Fittingly, that's now one for every year this blog has been in existence! Read my answers, and maybe try it for yourself, too.  
What made up your body of work this year? Which parts are you most proud of?
What were your top 5 moments of the year?
What are you really glad is over?
The move! John and I lived in our apartment for seven years and accumulated a lot of stuff. We thought since we were moving a block away, it would be easy to just make lots of trips before and after the movers came. Instead, we unwittingly made it a lot harder.
Then there was the process of getting unpacked, buying furniture for a larger place and figuring out where to put it, all the while fixing any surprises that came up. My weekends disappeared as we spent them working on home improvement when we'd rather be playing video games.
By the time we hosted Thanksgiving, we had a fully-furnished downstairs, two guest beds, and I even knew where all of my plates were. That's when it finally felt like home.
How are you different today than you were 365 days ago?
I devote my time to different things. I used to put a lot of emphasis on putting aside time for myself and my work; these days I'll drop everything for my friends. I think that means my values have changed. I care less now about making my mark on the world and more about just living.
Is there anything you achieved that you forgot to celebrate?
I wrote a lot more fiction than I have in years. I think completing NaNoWriMo 2017 made me more comfortable with creative writing. Also, allowing myself to write stuff without immediately sharing it with the world has made it easier to experiment with my writing style.
What have you changed your perspective on this year?
Living with uncertainty. I'm trying to remember that motivational advice about how life is not a dress rehearsal, it's happening whether you're ready or not. So I just need to live in spite of not knowing, enjoy the good days without worrying if bad days are on their way.
Who are the people that really came through for you this year?

John was incredibly handy, replacing a burnt-out dryer cable, rewiring the ethernet through the attic, and bypassing more than one $300+ electrician bill with a $4 part and some Gunpla tools. He also made a great travel partner and fellow convention panelist. And of course, he's been supportive of me in general no matter what. We've been married for five years this year!
My Japanese English conversation club became a much bigger part of my life. We began with weekly study groups and expanded to weekend events like pumpkin carving and a painting party. It's been amazing to realize I'm still capable of making new, close friends in my 30s.
What were some pieces of media that defined your year?
The Danganronpa franchise. I can't thank Sarah enough for recommending I try it at Anime NEXT. It led to a new obsession for me and my friend group plus my first cosplay in a decade.
Avatar: The Last Airbender. Believe it or not, I never watched it before 2018! My friends and I have been doing a remote watch-along for a couple months. Much like The Good Place last year, it's given us some common ground and a handy topic everyone likes to discuss.
What will you be leaving behind in 2018?
Feeling personally responsible for everything. It's hard to relinquish that illusion of control, the belief that if I could just be… better I could force the world to work a certain way, but it's a much more reasonable worldview to realize that I can't.
I hope the end of your year is marked by time spent with the people most important to you, plus plenty of downtime for catching up on 2018's truly impressive anime releases (I suggest beginning with Laid-Back Camp, Hinamatsuri, and Zombieland Saga). And in between all that, I hope you'll consider thinking about these questions, too. See you in 2019!