Eight years of Otaku Journalist, Part 1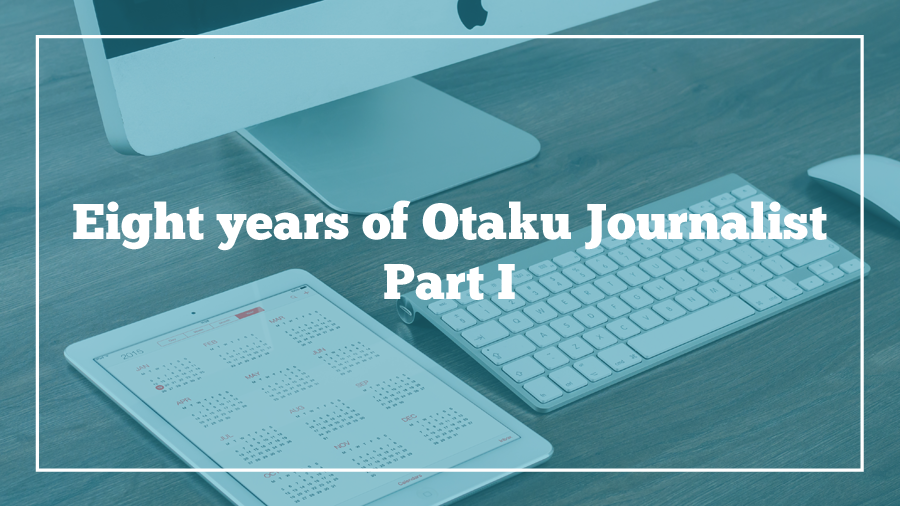 Eight years ago in November, I pressed "publish" on Otaku Journalist for the first time.
My first post, "Welcome" is so laughably vague compared with how specific I've gotten over the years. Today I'm not only occupying a specific niche topic; the main purpose that Otaku Journalist is still around is to help others with their niche (usually geeky) pursuits, too.
Eight years is an incredibly long time to have a blog. I've gone through four visual redesigns and countless directional shifts, in which I prioritize different topics. But I don't blog in a vacuum and it's always been my readers who have set the pace.
With that in mind, I'm going to take the rest of November to look at the 20 most popular posts of all time on Otaku Journalist, according to the Google Analytics tracker I first placed in the site code on November 14, 2009, and share my own insights.
Let's get started with #20-16 this week. We'll end with #5-1 on November 27.
Sept 29, 2010 | 7,458 pageviews
It goes without saying that the older an article is, the more time it had to build up pageviews to get on this list. But I think the reason this article is on the top 20 is because it stars three big names—Colette Bennett, Patrick Macias, and Gia Manry—who are still active in the industry.
Seven years later, Patrick Macias and I co-edited an edition of Otaku USA magazine. I still chat with Colette about our Korean skincare routines. Gia moved to my city to work for Bethesda, but I only recently met her and her husband for the first time at an Otakon happy hour. I will always be grateful to the three of them for giving me a chance when I was nobody, and somehow still popping up in my life now and then almost a decade later.
Jan 6, 2014 | 7,627 pageviews
You'll see that a lot of the top 20 have these question-format titles. This particular one has not aged well. Anime is practically mainstream these days, with the New York Times reviewing Makoto Shinkai's Your Name like they would any other blockbuster.
Space Dandy marked a sea change in how anime was produced. More and more, we're seeing not only simulcasts, but co-productions where an American company funds a Japanese anime project and the resulting production is equally marketed toward an overseas audience, too. To this end, I've noticed more and more shows have Crunchyroll listed as a producer.
Oct 14, 2013 | 8,237 pageviews
The likely, ugly truth is that people Google "anime" and "rape" and this pops up. It's definitely a fetish thing, but my article is clearly not about that and I guess people are still clicking.
Like most older posts, I read this one and think I could rework it to be better now. It takes a while to get to the point. It makes it sound like anime fans invented slash (actually, Star Trek fans probably did). Plus, I think at this point, I still felt a lot of shame about enjoying BL, while today I realize it's a fairly simple concept—just one of many sexual fantasies people enjoy.
Aug 28 2013 | 9,066 pageviews
I believe this is the first time I ever wrote about affiliate marketing on Otaku Journalist. Today this is one of the cornerstones of my career, through Gunpla 101, my candle blog, and this one.
You can tell just how long it took me to develop techniques to make affiliate blogging profitable. First I made $150 in eight months, then I made $150 every month. (Now I make $150 every couple of days, or once a day around Christmas. For more on how I did that, you can read way more recent articles.) There are also some references to projects I no longer have, like my "free guides" which actually became the chapters of my book Otaku Journalism. I hope that my more recent courses and posts on the subject surpass this post's popularity, because I have absolutely refined my blog money-making techniques a lot since then.
Dec 17, 2012 | 9,469 pageviews
Amazingly, I wrote this post before I was even writing reviews professionally. (I started as an Anime News Network reviewer in 2014.) So this advice isn't using the full extent of my knowledge and experience on writing reviews week after week for four years. Some of it I don't even agree with anymore (who cares about audience reception, actually).
Even in 2012 I knew that it was important to give reviews a recognizable grade, but this is the hardest part for me even now. I wrote a blog post about it in 2015: My Biggest Weakness: Grading Reviews. I tend to write a review that says what I really think and then give it a higher grade than it deserves to get the hecklers (who are just coming to check the grade and not to read the whole review) off my back. But lately I've been working with my editor to give more critical grades that better reflect what the episodes deserve.
---
Since this is NaNoWriMo, I'm going to conclude each post this month with my word count as of the night before this post went up: 8,253. Still on track!