What it felt like to cosplay again after ten years
The best compliment I got on my cosplay came the following day. I returned to MAGfest in normal(ish) clothes and ran into somebody I'd met in cosplay the previous day.
"You were Kokichi?" he asked. "I didn't recognize you."
I must have had the biggest smile. I'd wanted to spend a day as one of my favorite characters from Danganronpa instead of as myself, and at that moment I felt like I'd succeeded.
On Friday I cosplayed in public for the first time in about a decade. I wore my last cosplay, Mako from Nerima Daikon Brothers, in 2008. After that, I wrote a book about cosplay, appeared on Fox News to speak about cosplay, and went on q radio on the Canadian Broadcasting Channel to do an explainer on cosplay, among other media and event appearances. A lot of this has had me dispelling common myths about cosplay. Yes, you can make your outfit from scratch, assemble it piecemeal from clothing stores, or buy it outright, and it still counts as cosplay. And yes, a million times yes, anyone can cosplay, no matter their age, appearance, resources, whatever. I guess it was only a matter of time before I started taking my own advice.
It took me several months to get ready. I relied on the kindness of other cosplayers for which costume and wig to get. I got a recommended costume on Amazon and a wig from the same seller. But after two different attempts, I listened to another cosplayer and bought a new wig from The Five Wits that looked good even before I styled it. Since I wear contacts and have no problem sticking stuff in my eyes, I got circle lenses from Pinky Paradise to complete the look.
My very understanding hairdresser helped me give my wig defined, lasting flipped ends using got2be glued hairspray and toilet paper rolls. An enthusiastic Sephora employee helped me figure out how to turn my eyebrows purple. After a couple of different makeup trials, I figured out the right combination of Pinterest tutorials to contour my face and enlarge my eyes so I could try to look more like a 2D teen than a 3D woman. Overall, I spent so much time on my wig and makeup alone that I have renewed awe for cosplayers who also construct their own outfits. By the end of the transformation, I didn't just look like a different person, I felt like one, too.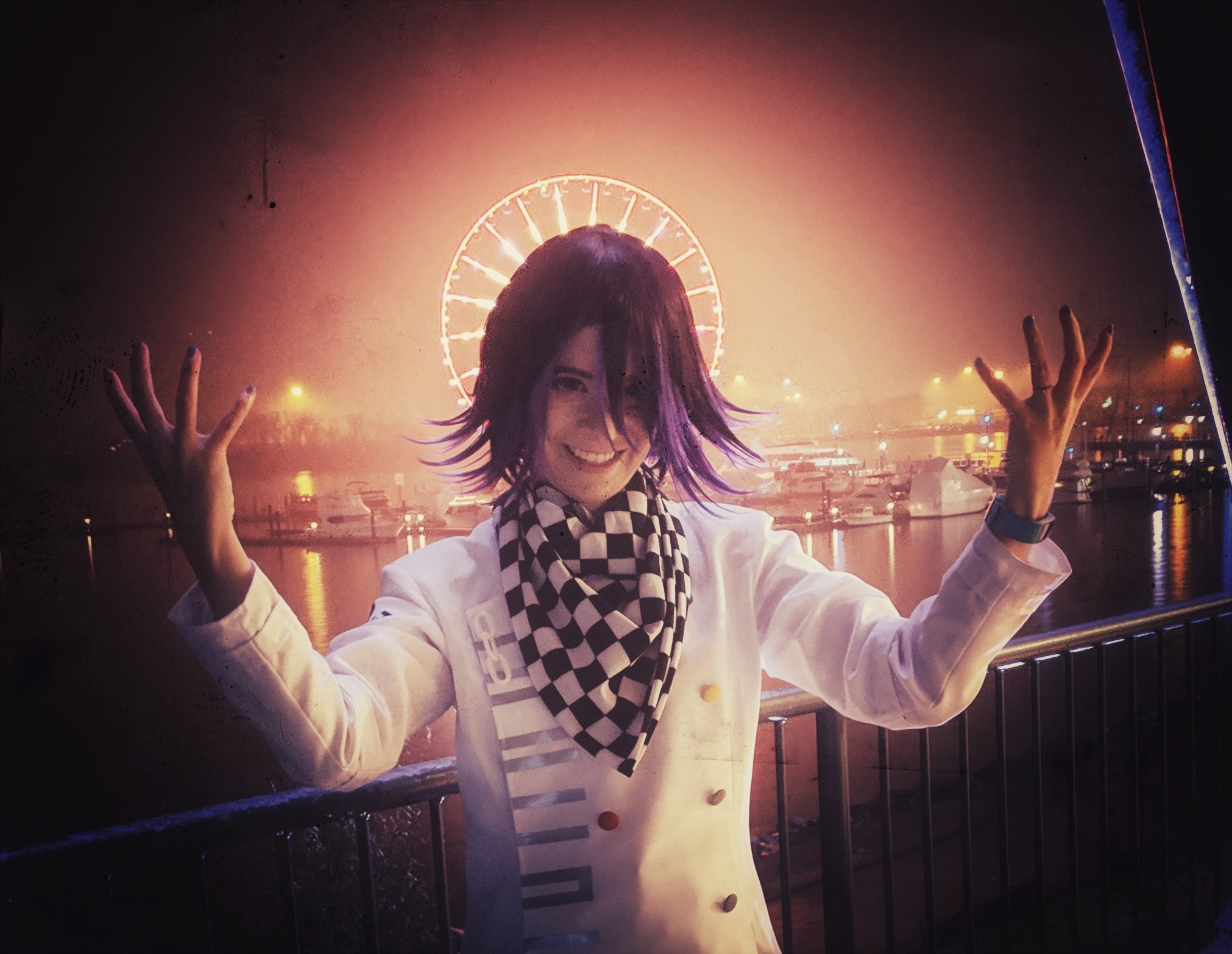 I wanted to have the full cosplay experience, so I asked my friend Barrett to do a photo shoot with me in and around the beautiful Gaylord atrium. The best photos we took were Barrett's idea. It was lightly misting at night and he suggested I stand in front of the lit Ferris wheel. It had a halo effect that complemented Kokichi's megalomaniac personality.
I also timed my cosplay with the day of the official Spike Chunsoft photoshoot so I could meet up with other cosplayers (one of whom was also dressed as Kokichi)! I felt like an extremely old lady when I first showed up at the meet but slowly began to get comfortable after realizing that everyone there was just as into Danganronpa as I was. There's no age limit on fandom.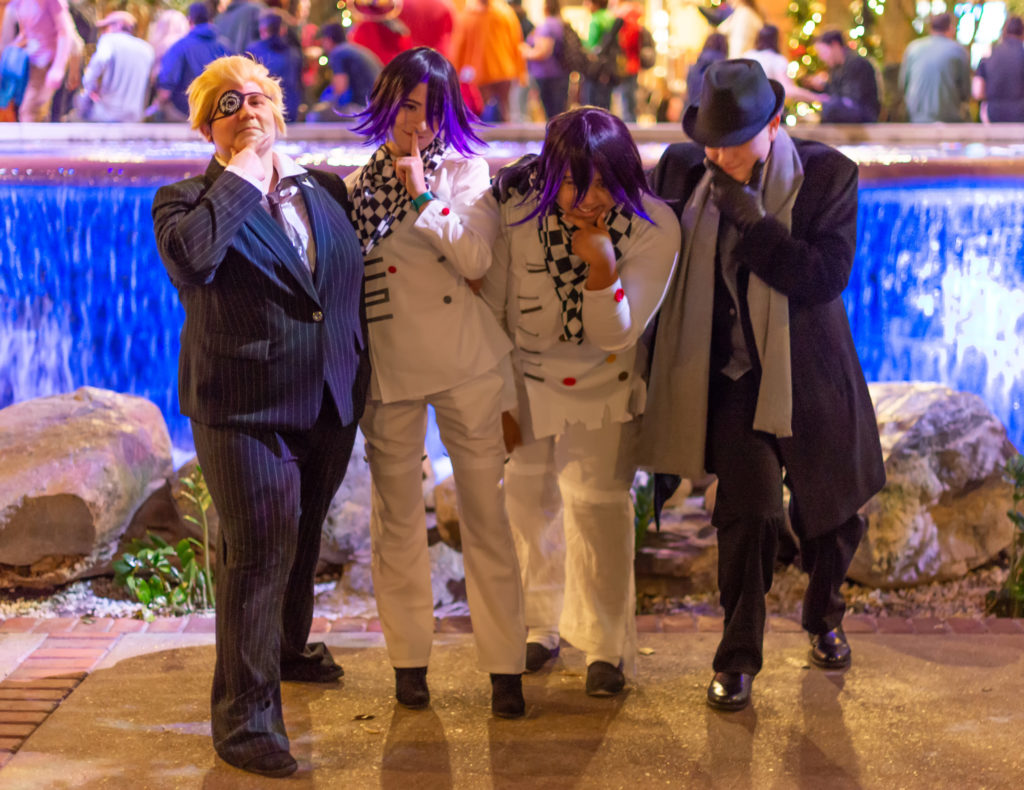 I was also surprised by how much more respectful the cosplay world is compared to ten years ago. After I cosplayed at Katsucon 2008, I was afraid to do it again because I could never guess when a stranger would recognize my character and envelop me in an unexpected hug. Since then, the Cosplay Is Not Consent movement has had a major impact. Before our photoshoot, a MAGfest volunteer gave us all a talk about no touching without permission. There were several instances during the shoot where people asked for explicit consent, like when photographers asked for cosplayers to pretend their characters were romantically involved. (There were also Gen Z meme references like dabbing and T-posing.) The kids are alright.
It took me half a day to start responding when people asked "Kokichi" for a photo, and a little longer than that for the poses to come more naturally. I wasn't very in character because I was genuinely smiling all day, I was having so much fun. Meanwhile, Kokichi is a pro at faking emotions but not so much at really expressing himself.
Kokichi's personality ended up being a real detractor for me later in the day. After the photo shoot, I connected with a card game creator who had photographed me earlier. He gave me a prize card from Dangan Werewolf, a fandom mod that combines Mafia, Werewolf, and the Danganronpa games. We got a group of cosplayers together to demo the game, but I had a very hard time being taken seriously because Kokichi would never tell the truth. I hadn't planned on roleplaying Kokichi, just dressing the part, but as other cosplayers got into character, I realized that maybe next time, that'd be another way to have fun in cosplay, too.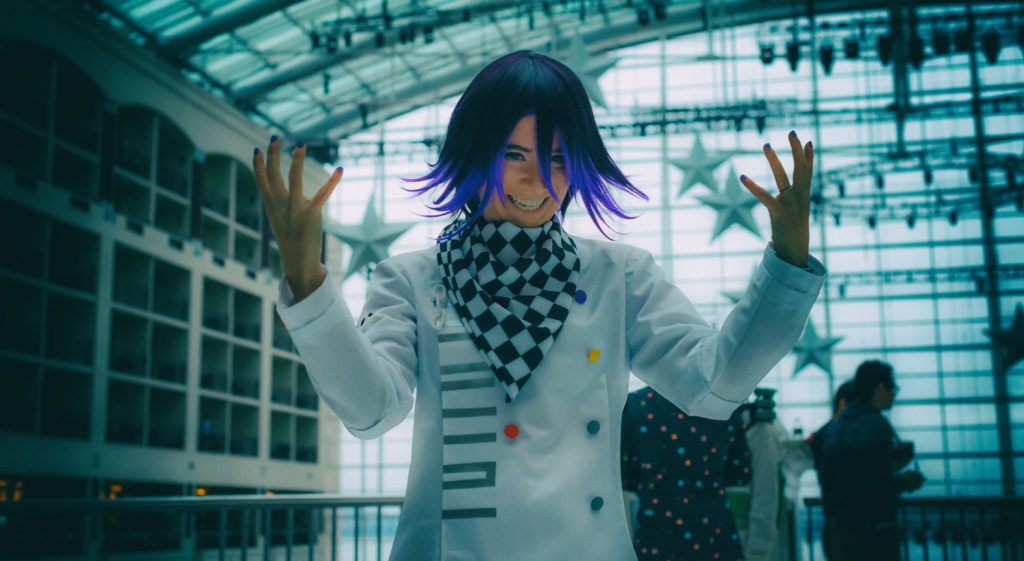 Cosplay was a new and remarkably intense way to celebrate a fandom and connect with other fans, using my entire body to express that passion. I've compared cosplay at a convention to characters walking around at Disney World in the past: it's one of the coolest feelings to know that any time you attend a convention, you could see your favorite character in the flesh. But what's different here is that anyone can cosplay—you don't need to wait for somebody else to cosplay a character you love; you can choose to do it yourself at any time.
Overall, what really made my return to cosplay great were the attitudes of other cosplayers. Even though I'm older than the average cosplayer, even though I bought my cosplay instead of making it, I felt completely welcome. It felt amazing to take off my wig and heavy false eyelashes and ten layers of makeup, but now I'm anticipating the next time I'll have an opportunity to cosplay again.