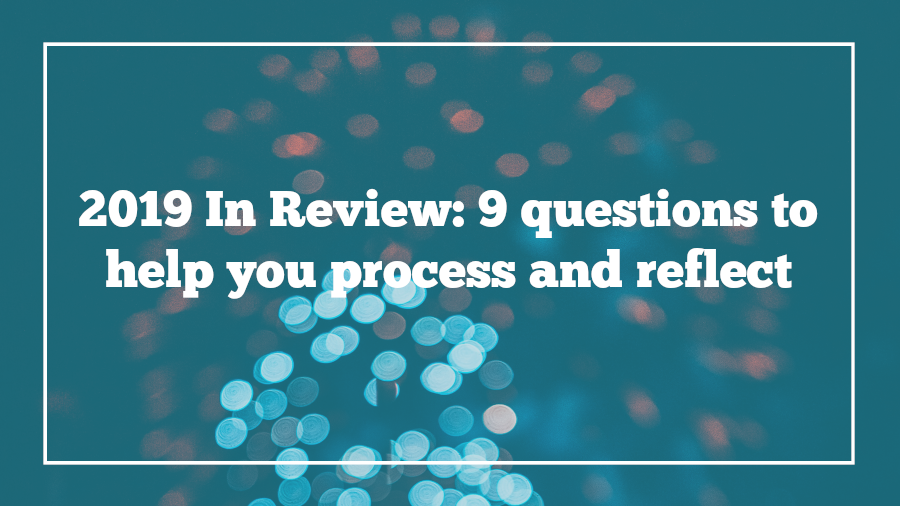 This year, I don't have any big plans for New Year's Eve. I've been heading to bed when Eva does, around 7 PM, and I don't think I could stay up until midnight if I wanted! 
Even so, I'll be continuing one of my New Year's rituals. In both 2017 and 2018, I dedicated the final post of Otaku Journalist of the year to helping me (and hopefully you) assess how the past 365 days have gone, and I did that this year, too. 
Below are nine questions I've been asking myself since 2017 as a way to summarize the year in review. Though it's a personal exercise, I enjoy sharing it with my blog readers. I hope that my reflections encourage you to make your own. 
What made up your body of work this year? Which parts are you most proud of?
I started working with a new client,

Tubular

. I get to use their fascinating social media tracking tools to write about viral video trends. My favorite article for them so far is

Transgender Videos: Why Brands Should Join the Conversation

. 

Speaking to Syracuse University students about cosplay. The invitation came when I was right out of the hospital after having Eva and I felt less like a person with any knowledge worth sharing than a collection of sore body parts. Preparing for this talk gave me a chance to be more than a mom for the first time in nearly three months.

The CBC radio interview

I did about the Kyoto Animation fire despite still going through my own emotions. I'm proud of myself for getting through it. 

Honestly, anything I wrote while 9 months pregnant was a major accomplishment over fatigue and nerves. Even when I'm up all night with Eva I'm not as tired as I was this summer, because at least my body feels comfortable and predictable again. I know I keep talking about this—having my kid was the most defining part of 2019 for me.
What were your top 5 moments of the year?
What are you really glad is over?
My pregnancy, but not for the reasons you'd think. At around six months along, I was diagnosed with an unusual complication called a velamentous insertion. It could be nothing, or it could result in a stillbirth. The uncertainty was maddening. 
Leading up to my due date, I had to go to the doctor twice a week for tests and ultrasounds to see what was going on in there. For my own sanity, I treated this like an annoying inconvenience. It wasn't until after Eva was born at just five pounds eight ounces that we realized she really had been fighting for her life in there. Fortunately, all the danger is over now that she's out, and we're so happy to see her packing on the pounds.
How are you different today than you were 365 days ago?
I'm better at living in the moment now. I don't worry as much about the past or the future. Eva needs me to be right here for her right now, and she's made me match her pace.
It feels so typical, so basic, how I can't stop talking about her. I never thought motherhood would change me but it has absolutely transformed my routine, my mindset, even my values. 
Is there anything you achieved that you forgot to celebrate?
I got promoted to Senior Contributor at Forbes. 
Though I'm on a hiatus from my studies, I graduated from Japanese 405. I started studying the language in 2014, so to go at it for five years felt like a major accomplishment. 
What have you changed your perspective on this year?
I used to be very uncomfortable asking others for help. Then I spent much of this year physically limited in one way or another, and got better at expressing what I needed. If I needed to stop and rest on a long walk, I said so. When a colleague offered me her granola bar during a work event (my hunger came in uncomfortably quickly during the first trimester), I accepted. In the weeks after Eva was born, I subsisted on meals friends and family cooked for me. Not so long ago this would have made me feel guilty and ashamed that I couldn't take care of myself. But being in a vulnerable position has not only made me appreciate the kindness of others, but renewed my empathy for other people going through difficult times. 
Who are the people that really came through for you this year?
The dozens of doctors I saw throughout my pregnancy who vigilantly monitored my complication. Definitely not my insurance company, but for sure the many insurance phone representatives who took time out of their days to keep me from getting overbilled and, in several cases, bringing an incorrect $500+ bill down to $0. I think the more you go to the doctor, the more of a chance you have of getting billed incorrectly because it happened to me half a dozen times in 2019. 
What were some pieces of media that defined your year?
What will you be leaving behind in 2019?
Feeling completely out of my depth all the time. So much happened this year on my personal life it was often overwhelming. There was a birth, a death, and two weddings in my immediate family. With all of this going on, I did not do my best writing this year. But I think that working while undergoing these many changes made me more resilient. I don't need to spend as much time preparing to write. I don't even need my laptop—I wrote most of this post with my thumb, on my phone at odd hours of the night, while holding a baby. I'm better at snatching spare moments to write and better at avoiding procrastination; because by the time I'm done procrastinating I might be busy with a baby. Freed from these prior self-constraints around writing devices, work hours, and standard routine, I think 2020 could be my wordiest year yet. 
If you decide to do a similar exercise to this one, let me know! I'd love to read it.
Lead photo by Andreas Dress on Unsplash.