Watch my webinar replay until midnight!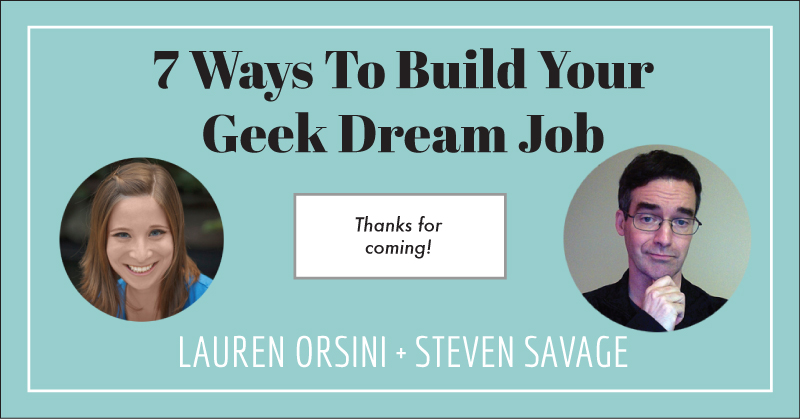 My webinar with Steven Savage went down this Sunday morning and I think it went great! Thanks to everyone who showed up; it wouldn't have been as good without all of your questions.
If you couldn't make it for any reason, good news: we have a webinar replay up until Monday at midnight Eastern Time. At an hour and ten minutes runtime, Steven and I got through quite a bit of advice. We gave attendees a free worksheet PDF to use for note-taking, which I'm making available to everyone now:
Get the worksheet
Also, for the first time, Steven and I are offering our complete combined oeuvre of geek career advice in one heavily discounted bundle. Get our nine books in multiple formats (23 files total) for just $40. It's certainly the cheapest we'll ever offer them for. But hurry—the bundle is only available as long as the
webinar replay
is, until midnight tonight.
Get the bundle
I can't stress how important it is to have mentors in your geeky career. When I saw Steven doing with his life what I wanted to do with mine, it made it clear to me that it was possible. Even during this webinar, I was still learning new things from him.
One more thing—I previously mentioned that I'd be announcing a new course during this webinar. I didn't. I'm going to keep working on it until I have something really good to share. As always, if you have any feedback about what you'd like to learn from my next course, it's very welcome.