'My Girlfriend is Shobitch' and what we teach teen girls about sex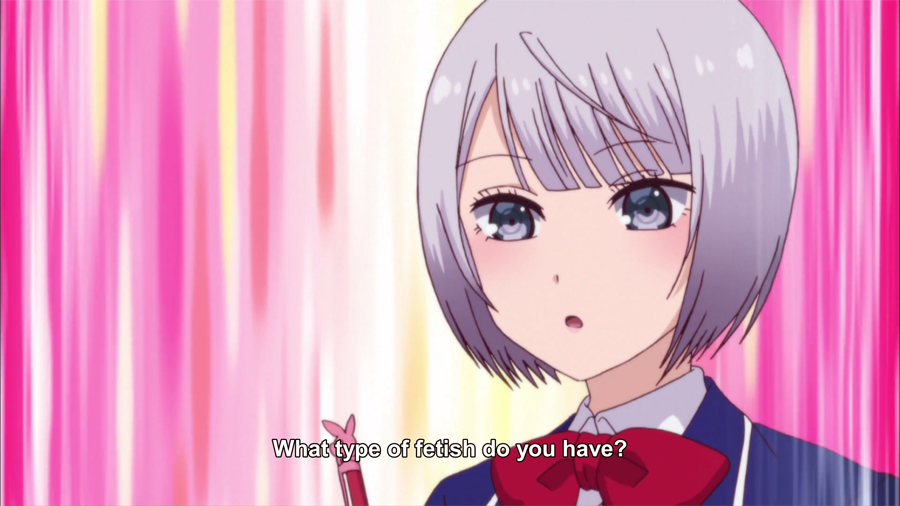 I would have thought there was nothing that would convince me to watch an anime with "bitch" in its title. But then Vrai, my colleague at Anime Feminist, gave it not a good review exactly, but certainly a better review than I'd expected:
"[T]here is a shockingly workable idea in this premise. Kosaka is a really likable heroine, and her approach to sex is both uncommonly depicted and relatable (I certainly remember trying to frame sex as academically as possible as a high school honors student because I was terrified of it)."
I wish this title had been translated to Vrai's suggested, "My Girlfriend is Too Much to Handle." The non-word "shobitch" is short for "shojo bitch," where shojo means virgin (keep in mind it is a different character set than the one that means "girl") and the Japanese interpretation of the English word "bitch" is really more like our word "slut." (Remember the femme fatale "Bitch-sensei" in Assassination Classroom?) The title is purposefully contradictory—describing a girl who is inexperienced, but acts like she isn't—and the show discusses a contradiction of another sort: media messages about sex having no basis in reality.
The leading lady is Kousaka Akiho, a brilliant student. She excels at everything she puts her mind to. So when her classmate, Shinozaki, asks her out, she decides she's going to be an A+ girlfriend, too. Cue a comedy of errors as Kousaka pores over health books, explicit podcasts, and every possible media message about what men want in order to appease her new beau—even though it backfires and makes him uncomfortable instead.
Kousaka is intensely relatable. Research and practice worked for her grades, so why wouldn't they work for love as well? She puts her whole heart into everything she tries. She's clearly intelligent. Her studious nature paired with her inexperience in the ways of love lead to her taking every pop culture message about the objectification of women quite literally.
As a teen girl, I learned for the first time that my body was not my own. If I didn't put the right clothes on it at school, I could be sent home to change so I wasn't a "distraction." But the mall gave me a contradictory message, as all the stores predominantly sold girls my age crop tops and low-cut dresses, all of it made from cheap, nearly see-through fabrics. Women's magazines showed me how different outfits, makeup, and workout routines would make me "sexy." They showed me "50 ways to please" my man. TV shows like the OC taught me that my virginity was the best "gift" I could give a guy, and if I didn't, I was cold, and if I did, I was slutty.
As time went on, the messages contradicted themselves. When I was 14, I was walking with my mom when a trio of construction workers wolf-whistled at me. As I smiled and waved at them, my mom scolded me. But a couple years later, when I was walking alone and ignoring a man who said hi and asked me to smile, he began shouting that I was a cunt. It was confusing.
Is there anything more perplexing than being a teen girl? You look at your new body and it feels startlingly removed from your identity. You've seen curves like this in advertisements, as a product to buy or sell. They certainly don't mesh with your own perception of yourself.
It's not perfect, but "My Girlfriend is Shobitch" ends up almost being a meta-discussion about how we teach teen girls about sex. Not once during this episode does Kousaka consider what she can get out of a relationship with Shinozaki. She only knows that pleasing her man, the way Cosmopolitan magazine tells us to do, is the most important test of her character to date.
And Shinozaki? Well, god bless the boy, he doesn't know what to think.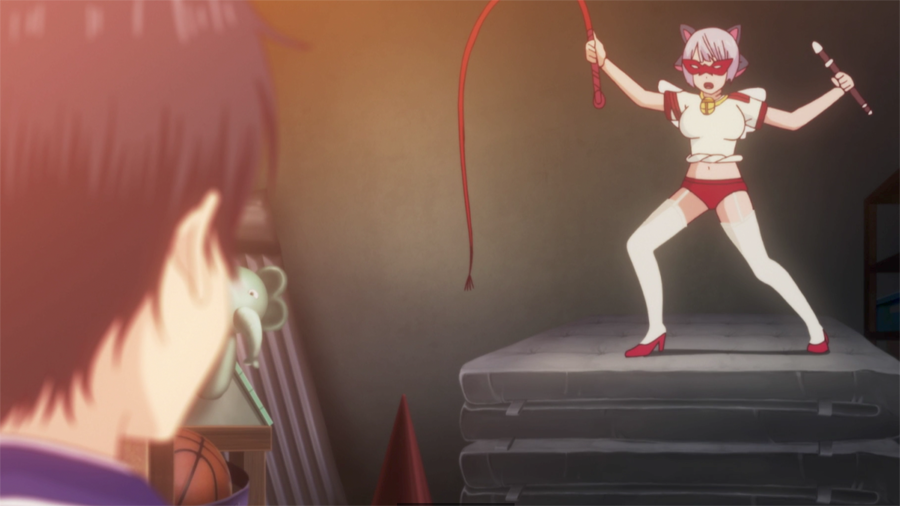 This premise of this show wouldn't work if the male lead simply went along with Kousaka's overtures. After all, Kousaka is only doing what she's told men love. We have to give Shinozaki credit for seeing Kousaka as a person, as somebody he genuinely wants to get to know. While the episode begins with Shinozaki's specific sexual fantasy about Kousaka, it seems to be within the context of Kousaka's shared enthusiasm and agency. But in real life, Kousaka doesn't seem to believe she has any agency, or any right to enjoy sexy stuff herself. In other words, there's a very clear divide between what Shinozaki is supposed to want and what he does want, which at this point seems to be to make Kousaka as happy as she's trying to make him.
Kousaka is a good student and has mastered the messages teen girls are taught. She knows that male pleasure is paramount and she's just a means to an end. Hearteningly though, this episode demonstrates that this isn't a message that benefits anyone. There's some hope that over time, this will become clear to this surprisingly cute couple.
A caveat: after just one episode, it's way too early to recommend this show, or even to gauge whether it'll even stay watchable. (It could certainly do with a lot less of Shinozaki's handsy childhood friend.) Also make no mistake that this is an ecchi show, with panty shots and lewd camera angles that would objectify Kousaka even if she wasn't trying so hard to objectify herself. But I couldn't stop thinking about the ways this show shines a light on all the messages a teen girl internalizes. It proves just how contradictory and silly they actually are. Like discovering the monster under your bed is really just a shadow, it's sweet relief.
My Girlfriend is Shobitch is streaming on Anime Strike.