My first foray into Gundam modeling
Like Gunpla? Click the image below to visit my new blog, Gunpla 101.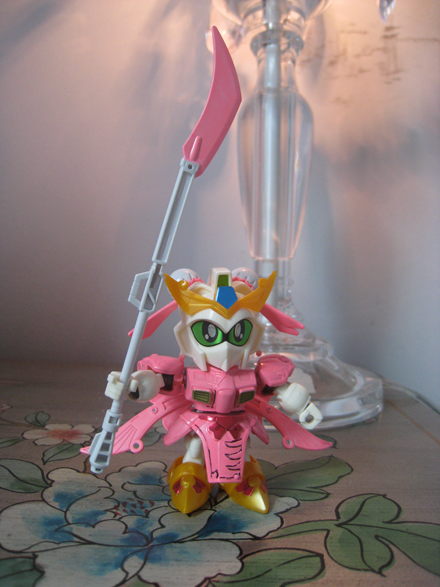 Industries take note: I can be recruited to any hobby if it comes in pink.
I've publicly indicated that I've never owned figures or models, never felt the urge to collect. But when I saw this super deformed pink Gundam mod in the Otakon dealer's room, I was begging my surprised (and Gundam obsessed) boyfriend for one of my own.
Gundam models are usually models of giant piloted fighting suits that, to Americans, resemble Transformers. This one turned out to be a model based on Shin Sonshoko Gerbera SD from BB Senshi Sangokuden, a show where the Gundams are all person-sized and living in feudal Japan. Not surprisingly, it never made it to the states. John helped me find the right kit, a $10 feminine looking Gundam, but it was red. It turned out the display figure I saw was a mod. So we got a pink Gundam marker to paint some of the parts.
John and I spent an afternoon putting our respective Gundams (his being Gundam X) at our kotatsu. Here's a photo of the parts inside. There aren't too many parts. The salesman said this would take around 20 minutes to put together.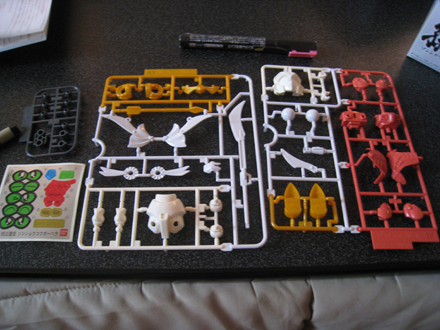 The instruction manual was in Japanese, or "moonspeak," as the salesman told us. What a card. I was worried about reading them, but quickly learned that as long as I know how to count, I can figure out which of the numbered parts go where.
The pink torso and shoulder parts drying. Note the red armor on the box. You can also see the finished legs of John's model in the background.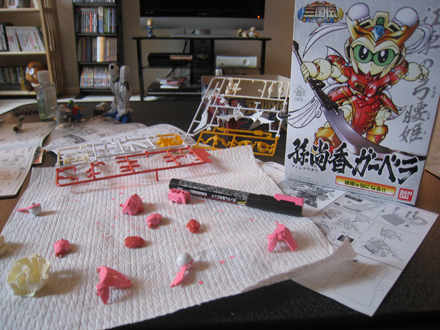 Almost finished! I decided at the last minute to paint the bow, which is a bow in both senses of the word (and even came with an arrow) pink.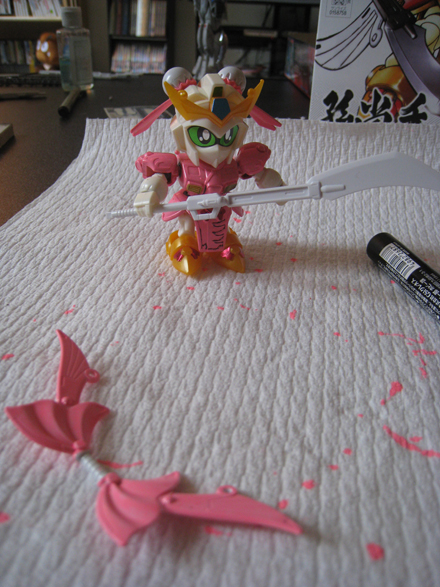 My finished model from the front and back.
Overall, it took about an hour, leaving time for the paint to dry. I'm so glad I saw it through to the end. I really enjoyed building it and also the fact that, due to my customizations, it's the only one like it in the world.
I think I could get hooked on Gundam modeling. I've already decided on what my next project will be.
Like Gunpla? Click the image below to visit my new blog, Gunpla 101.