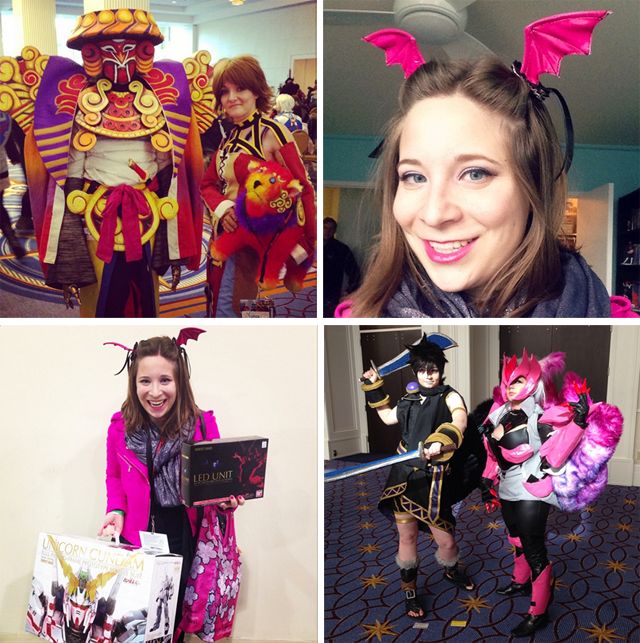 I went to my first Katsucon when I was 22 years old. Since then, I've never missed a convention, not even when a blizzard (Kat-snow-con) threatened to keep us all home.
That's six years of mid-February conventions, and all with my Valentine. (I tweeted that it'd been eight years, not six, because I am bad at math.)
I mentioned today was @GundamGuy and my EIGHTH Katsucon together. Well, this was our first: pic.twitter.com/y3D49YrTtp

— Lauren Orsini (@laureninspace) February 15, 2015
However, John has been my only constant, really. I've spent Katsucon doing all kinds of things, from working in the maid cafe to reporting on Artist Alley in a wheelchair, after I broke my foot. Katsucon was the first convention I reported on back when I was an intern at the Fredericksburg Free-Lance Star, and the reason I got a mention of my reporting published in Jezebel. Now, nothing can keep me away!
This year was far less exciting than previous ones. We showed up for just Saturday, waited in a short-for-Katsucon two-hour registration line, visited the Maid Cafe, (where one of our tablemates was hand fed by a butler!), played Hanafuda, and saw the Batmobile, all while I took photos of every Yowamushi Pedal cosplayer I could find.
John and I mostly spent it shopping—including buying our very first Perfect Grade Gunpla kit, the most technically complicated, physically large, and expensive model type that there is. Expect to hear a lot more about that at Gunpla 101.
Other purchases: Peepo Choo, the graphically violent yet painfully close-to-home story of an otaku who discovers Japan is not his "arbitrary Neverland" of fellow fans. What Did You Eat Yesterday?, a poignant cooking manga/portrait of LGBT life in Japan. Machine Robo, starring the exploits of villain Devil Satan 6 and other campy Super Robot genre pioneers. The classics Akira and Metropolis. Together, everything on this table cost less than $80 total, which shows that you can get good deals at cons.
I've written a lot about Katsucon as a prime reporting opportunity, but it felt good this year to relax and catch up with friends. Did you go to Katsucon and if so, how was it?
Photo grid via my Instagram