Four years of otaku journalism
What are you going to be doing four years from now?
If you had asked me that same question four years ago, I don't think I would have said blogging. In my first ever blog post back on November 14, 2009, I expressed my doubts even as I welcomed friends and family to check out my then-portfolio site.
Since then, a lot has changed. It's worth repeating that my life turned out the way it did over the last four years directly because of my blog.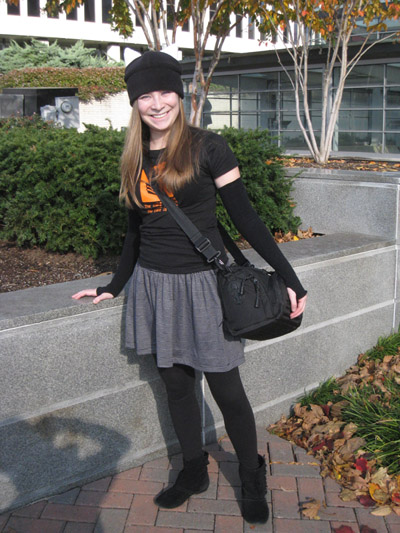 Me, days after starting the blog, about to film at Anime USA.
In November 2009, I was a 22-year-old graduate student at American University who just got my first smartphone, a giant Android brick. Most of the posts I wrote in 2009 are about general journalism, not geek stuff, because I wanted to be "well rounded." I thought that if I just wrote about what I liked, I would limit my job opportunities.
I started to see the light in 2010 after I wrote about my experience working at Katsucon's maid café. I got a writeup on Jezebel that called me "an aspiring journalist," and even got in touch with Dan Zak, the Washington Post reporter whom I criticized but secretly admired. Zak's outsider portrayal of the maid café prompted me to write my own. After that, I changed the name of my blog from simply Lauren Rae Orsini to Otaku Journalist.
All through 2010 I continued to report on fandom and subculture topics for my blog, but after I graduated, my internships at Kotaku and the Newseum didn't turn into jobs. I started working as a cashier at the local gym and moved back in with my parents. It wasn't how I imagined my life at 23.
When I got tired of marathoning Welcome To The NHK, I decided to buckle down. In November, I applied for 30 jobs in 30 days. In the end, I got five interviews, and finally one job. You can read the entire month-long saga right here, though it's backwards since I put it up on Tumblr, sorry.
I began working as an interactive developer in downtown DC in December. I was so happy to find work, and so happy to have a highly technical job that made me feel smart and important, but it wasn't long before I started to loathe it. Part of it was me being a dumb kid who didn't know how lucky I was to have a job. And part of it was noticing that I never felt as happy working on work as I did when I was reporting for my blog.
Even though I felt like I had to be a different person for work (but I didn't really; my boss and team members were really cool), I knew I was a reporter on the inside. And it didn't matter if I was getting paid or just writing for my own blog. This is the gist of my summer 2011 entry to Susannah Breslin's contest for young woman journalists on Forbes. I won.
After that, my professional writing career truly began. Owen Thomas, then a founding editor at the Daily Dot, saw my Forbes article and offered me a job. It was less than I was getting paid as a designer, but I didn't even blink. I'd work in journalism at any cost. (Soon, I'd also realize I felt the same way about working for Owen.)
I stayed on at the Daily Dot for a year and a half, writing some of the most interesting stories of my career. I covered bronies, cosplay, and Tumblr communities, sometimes all in the same day, and my editors were cool with it. Sometimes my stories were reblogged at larger sites like Mashable, and eventually I had enough credibility to start pitching my own freelance articles at places like CNN.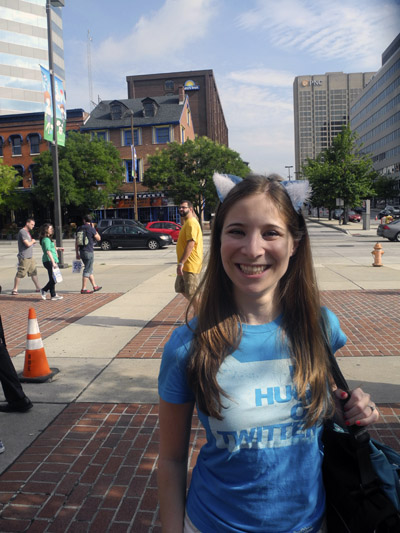 Reporting at Otakon 2013, still wearing cat ears four years later.
Eventually, the long hours that come with working at a startup wore me out. I quit the Daily Dot to go freelance in December 2012. I worked at PBS, The Women's Book, Tumblr Storyboard, Otaku USA, even WordPress, until I got in touch with Owen again. Now he was working at ReadWrite as the Editor in Chief. He offered me a freelance job, and once again I didn't think twice. Since then I've slowly phased out my other gigs until I became a full time contractor, the lead writer for ReadWriteHack.
Some of you already knew the whole story. More of you stopped in somewhere in the middle. Either way, I'm so happy you're reading this today. I have no idea where I'd be without my blog, but definitely not here.
Here's to four more years for Otaku Journalist! And if you've been thinking about fiiiinally beginning that blog, this is your sign. My only regret is not starting sooner.