Fashion advice from a freelancer who likes bright colors and saving money
I decided to go back to work in November to improve my web development skills by working as part of a team. As the initial elation of getting the job faded, it was replaced by a feeling of dread: "My god, I'm going to have to start wearing pants again."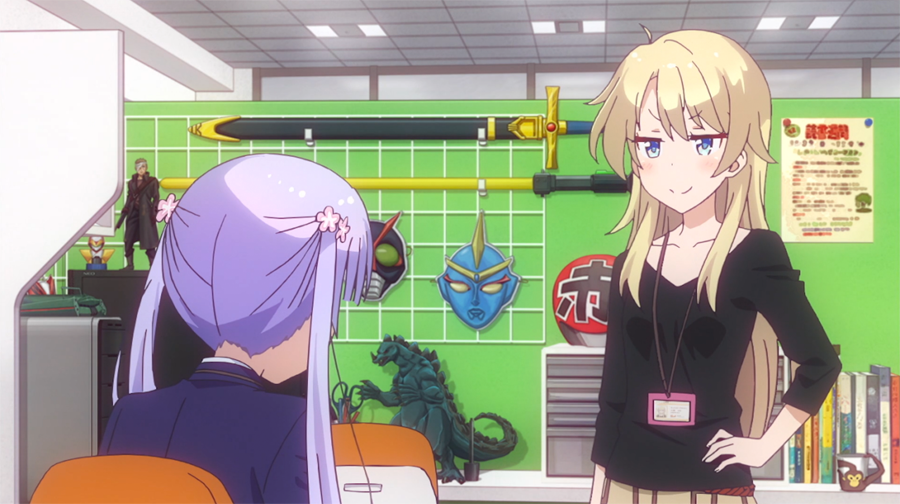 Aoba and Kou at the office. 
When I got my first office job out of graduate school, I dressed a lot like Aoba from New Game! I had a bunch of skirts and suit jackets left over from my days on the high school debate team: every day the same button-down shirt, unflattering below-the-knee skirt, and tummy-pinching tights with low heels. I hated it but the dress code was strict—after I broke my foot, I had to get a doctor's note to explain why I would be wearing sneakers instead of heels during my recovery.
After I began working from home, I was free to explore my own sense of fashion instead of what I thought a company wanted me to wear. This wore off quickly though, since I spent most days at home. Usually I wore exercise clothes full time, the better to get a workout in between assignments. Any nice clothes I had were birthday gifts or hand-me-downs from my mom and younger sisters, who luckily all wear the same size. This is how I got away with just supplementing clothes I bought in college (or worse, high school) all through my twenties.
My existing wardrobe of workout leggings, oversized tech conference t-shirts, and hoodies was fine for my new office's casual dress code in winter. But as the humidity crept up, I realized there was no way I could wear pants into summer. Shorts, even here, were out of the question. It was time to come up with a summer office wardrobe I wouldn't hate.
I ended up dressing less like Aoba and more like her manager, Yagami Kou. You can find both me and Kou in flowy skirts and comfortable tops (and without pants whenever possible).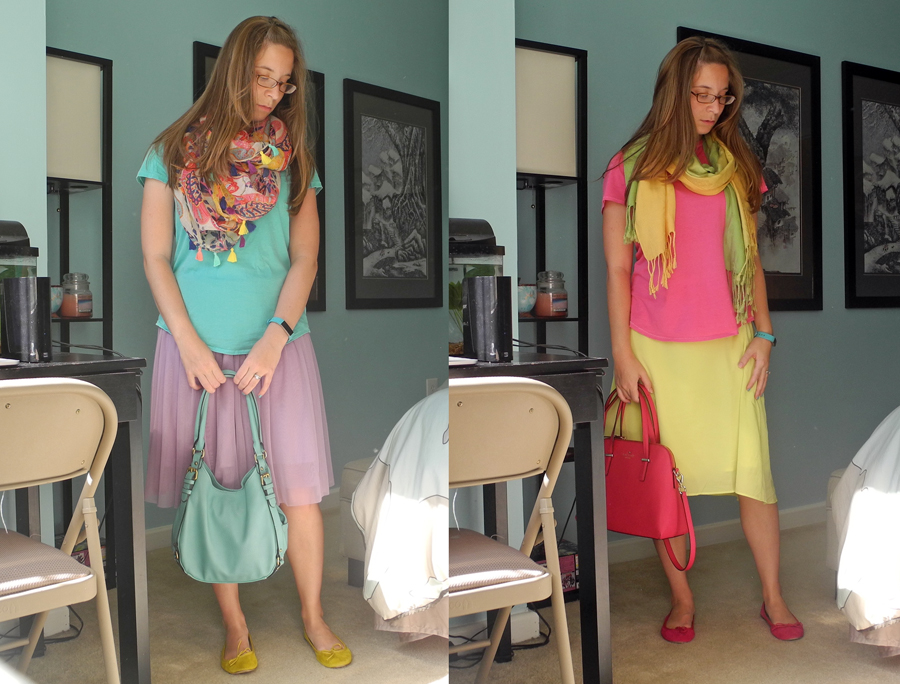 As we all know from fashion magazines, all women have body shapes based on various fruits. My style direction is to dress so you can't tell which one.
I spent less than $100 to build a summer wardrobe. Here are two outfits I wear nearly every week. I got the shirts for $10 from the Gap, the neon skirt for $20, and the purple skirt in Harajuku for $25. Each pair of flats was $15 from the Gap, and I bought the same ones in two colors, just like I did with the shirts. I am a big fan of duplicates if they're comfy. One scarf was a hand-me-down from Mom, the other was a Nordstrom Rack bargain. (Yes, you're taking style advice from a person who wears scarves in the summer.)
As you can see, I am not a very fashionable person. I like bright colors and saving money and those are my priorities. But since I've been working from home and have pared down my clothing selection for years, I've been able to create a small but versatile wardrobe where everything I own matches everything else, summer or winter.
I've kept a very sporadic fashion diary since college, and you can see me wearing some of the same pieces frequently over nearly a decade. Not having to wear anything fancier than exercise clothes for weeks, and not wanting to spend money on clothes nobody will see but me meant I could be very choosy when it came to picking stuff I wanted to wear forever. To the point that, when I decided to buy some office clothes, I could get away with 2 skirts and 3 shirts and end up having enough to wear every work day all summer. (I mean, I do have to do laundry every week as opposed to every two in winter, but in DC humidity, who doesn't?)
Here's my advice for freelancers who still go out sometimes and need to wear clothes:
1) What's your favorite color?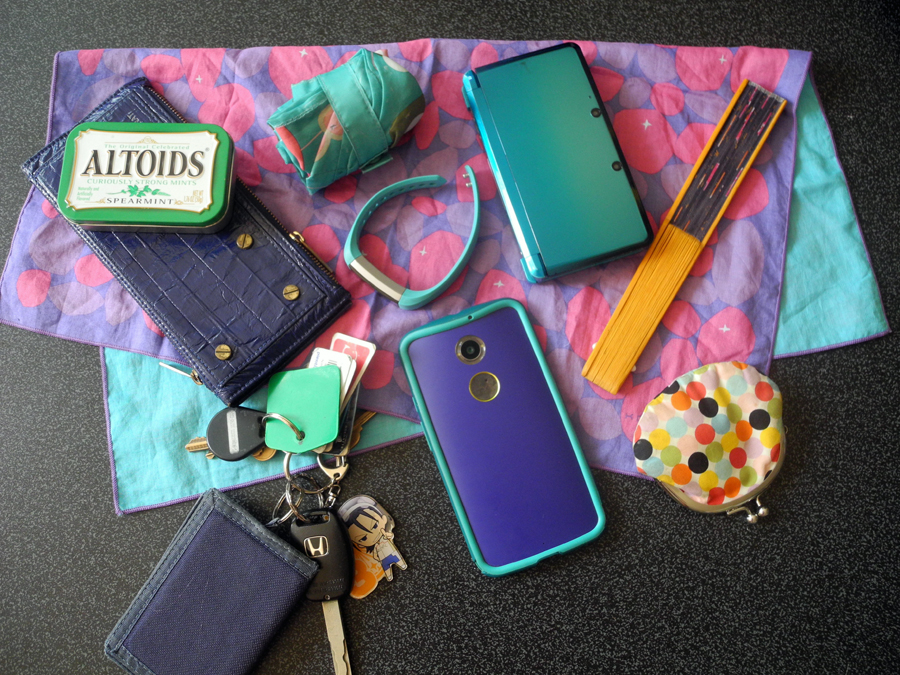 Here's an unedited look at all the stuff I bring with me every time I leave the house. Clockwise from bottom: my keys and Metro card, wallet, Altoids, foldable shopping bag,  FitBit, 3DS, fan (for hot Metro trips), handkerchief (scented with essential oil, for smelly Metro trips), coin purse, and phone.
Altoids aside, you can see a pattern emerging here. I really like teal, pink, and purple. So I buy clothes in these colors, or in colors that match (like coral, navy, and yellow). I don't even own a black purse, because when everything matches a color, that color is your neutral.
2) Accessories are cheap and add variety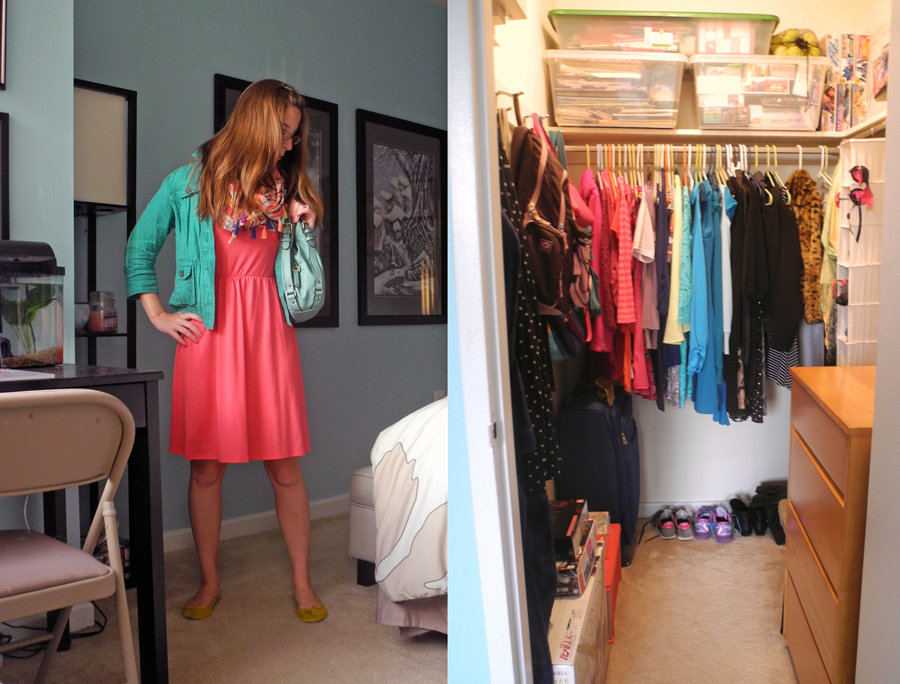 Left: a cheap old Target sundress and hand-me-down jacket modernized with a scarf. Right: Everything in my closet matches everything else. Also, every one of those boxes you see is where my money really goes—Gunpla. 
Want nobody to notice that you have a limited wardrobe and often repeat outfits? Work with a team of men, like me (ha ha). If that's not an option, let's talk about accessories.
I friggin' love scarves. I can update an entire outfit by changing the scarf. They also keep you warm, can be worn 100 different ways, and don't cost much. When scarves aren't warm enough, I'll mix things up with my stupidly inexpensive wrap collection. Or a statement necklace from Target. But mostly, it's scarves that have the most dramatic effect. Even if I don't buy clothes that often, I'll buy at least one scarf a year to update my look, and suddenly my oldest outfits look new again. 
A note on makeup, which is sort of an accessory—this is actually the one area I spend a lot of money on. As I've gotten older I've gotten choosier about what I put on my face. While I used to wear bright drugstore makeup, now I prefer to wear color in my clothes and neutrals on my face. I usually wear the Urban Decay Naked 3 palette and Kat Von D Tattoo liquid liner (which, relatedly is the same liner that Victoria from Crunchyroll uses, much to my disappointment. I thought if I bought the same liner as her I could look that good, but it's all talent.)
3) Forget what looks best, what feels best?
When I was in Girl Scouts, I earned a badge for determining which color clothing looks best on me. I bought paint chips at Home Depot and held them next to my face to figure out if I was a Spring, Summer, Autumn, or Winter. I'm so glad Girl Scouts isn't like this anymore.
I don't pay any attention to what colors I look good in; I prefer to focus on clothing cuts I look good in—or better yet, feel good in. You might not be aware that you already choose things using this requirement. What are the most-worn clothing items you have? Do you already find yourself wearing a "uniform" of sorts? Since it's almost fall, here's what I will wear when the weather gets cooler: skinny jeans, a graphic tee, and a hot pink or teal blazer. Instead of changing what I like, I'll build around my preferences to create an updated wardrobe. If my skinny jeans get too tight or my blazer gets frayed, I know I'll want more of the same. I also know I'll probably going to be wearing a T-shirt no matter what my plans are, so maybe I'll buy a new statement scarf to cheaply dress it up.
Making sure everything looks good together gives me more variety, which means more outfits without more clothes, which means my clothes don't wear out as quickly and I don't have to buy them very often. I would rather buy Gunpla than buy clothes any day, so this works for me.
How does your job affect your wardrobe?