An entire year of One Piece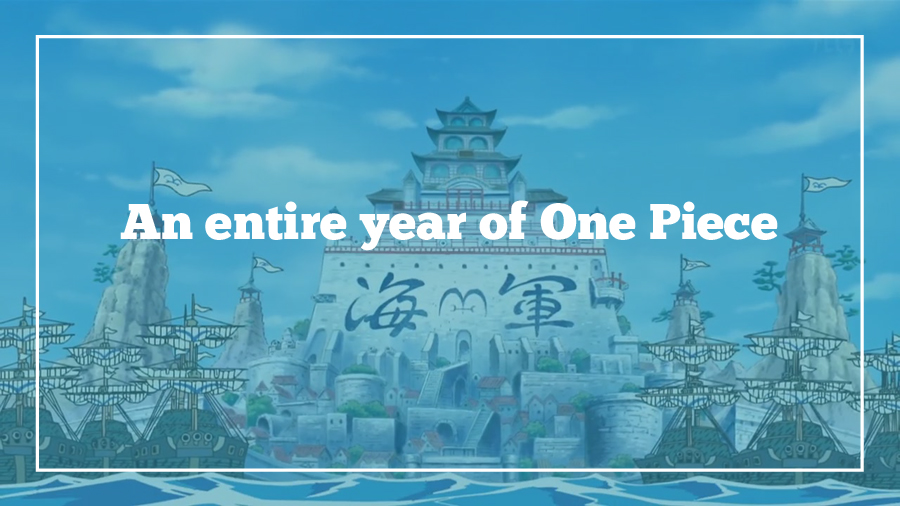 In January 2017 I started episode one of One Piece. It's January 2018 and I'm on episode 480.
I didn't set out to make "finish One Piece" a New Year's goal and it'd be a terrible one anyway—the show has 800+ episodes and counting and nobody needs to watch that much TV in one year! But I had a lot of days this year where I was feeling down and nothing except Luffy's relentlessly positive attitude could help.
This was my first experience with One Piece ever since I read some scans back in middle school up to Usopp's introduction, and I have never seen anything like it. Few anime are this enduring and even if they are, they're not always worth the time.
I didn't watch One Piece every day, and I didn't watch every episode (I skipped a bunch that friends told me were non-manga filler). But it's definitely the longest I've ever spent time with a single piece of media so I wanted to share some of my thoughts.
A story that lasts
Before I began watching, the main thing I knew about One Piece was that it is impossibly long. As of this writing, there are over 800 episodes!
Published in Shonen Jump since 1997, the One Piece manga turned 20 last year. Eiichiro Oda was an early bloomer, launching his career at age 17 when he won several awards for his very first manga, Wanted! He worked as a manga assistant until age 22 when he first published One Piece, a hit from the very beginning.
Initially, Oda had the entire story planned out for a five-year run. But because it got so popular, it took on a life of its own. Today One Piece is the best-selling manga in history and among the top 10 best-selling anime in Japan. All this, and it's only slightly more than halfway complete.
With that forecasted ending in mind, it's impressive to see how thoughtfully the plot moves. I'm at the Summit War arc that has been signposted for ages, ever since Ace gave Luffy a mysterious blank piece of paper. It's a climax that formed organically from an initial quest to visit Fishman Island, and I'm still surprised at how much that got out of hand. It's a long story, but every twist deepens the plot and strengthens the reality of the One Piece world.
A story that inspires
Perhaps it's because Oda already knows how it's going to end, but I never feel like One Piece is taking me for a ride that isn't going to pay off, even when circumstances take the characters further from their goal than ever. Oda is a master of this "darkest before the dawn" storytelling style: just when a terrible outcome for Luffy seems inevitable, he manages to turn it around.
It's interesting to watch One Piece as a model for suspenseful fiction. What keeps so many viewers so engaged for so long? Many other stories have a motley cast of unique heroes and villains, emotional arcs of friendship and redemption, and an uncommonly positive message. There are also things One Piece does badly, like its insensitivity toward LGBT people and Sanji's attitude toward women. What makes it irresistible in spite of its many flaws?
If I were to put my finger on what One Piece has and so many other shows do not is a world that is markedly different from our own but nonetheless too real-feeling to question. A spirit of exploration only works in a world where viewers truly believe that tuning in means making rewarding discoveries they have never seen before and won't find anywhere else. I'm not saying that One Piece makes viewers lose their grips on reality; I'm saying that its characters, settings, and storylines make sense in a logic that fits this story alone, so clearly that readers and viewers don't question it.
A lot of stories are entertaining; few make their viewers believe in them so deeply.
You can still start now
I thought that my One Piece window had closed forever. It's already long and it's still going! It's impossible to catch up. So when I started watching, I decided I wouldn't catch up.
Trying to get current on One Piece sounds like a job I don't want, so when I clicked play on episode one last January, I told myself I'd only watch it when I felt like it. I stuck to that but I didn't expect just how much I'd feel like it. I admit I didn't read as many books as usual in 2017 because instead of reading a chapter before bed, I'd watch an episode or two of One Piece.
Right now I've gotten back to reading more books, plus it's the start of a new season and I'm watching a lot of first episodes. I haven't watched any One Piece so far in January, but I'm not concerned about it. When I'm ready to watch more, it'll still be there—and a lot of it!
In other words, don't let the show's intimidating length stop you. You can still enjoy it in 2018. You can watch a little and pause whenever. You can even call it quits. But if you manage to do that, I'm guessing you have a lot more willpower than me.