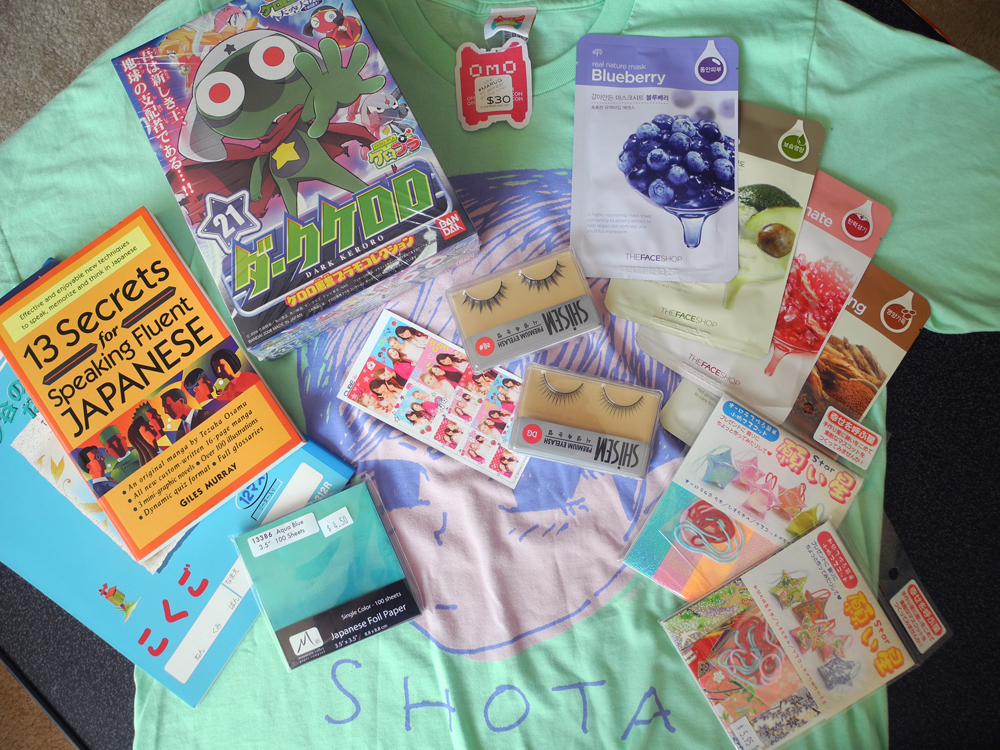 Just took what has become my near-yearly pilgrimage to San Francisco Japantown, one of my favorite places on Earth. Where else can I watch Yowamushi Pedal at a restaurant, photograph cosplayers at the dollar store, check out the Peace Pagoda by night and eat salted cherry blossom sweets?
I couldn't bring Japantown back home with me, but I certainly tried my best. Here's everything that fit in my carry-on. Click the photo to see a larger view.
Dark Keroro figure — For the most part, you can buy the same models in Japantown that you can anywhere online, so it's not worth that valuable suitcase real estate. Every now and then, however, I've found gems I can't get anywhere else. Sergeant Frog figures like this one haven't been made since 2008, and yet this one just happened to be lying around.
13 Secrets to Fluent Japanese — Before my trip, I asked my translator friend Katriel if there were any books she recommended I pick up at Kinokuniya Bookstore. Without skipping a beat, she suggested this one. So far I like the mix of no-nonsense advice and visual manga storytelling.
Kanji Practice Notebook — This is definitely for children, and features illustrations from Tales of Moomin Valley on the front and back and a grid of large, ruled squares on the inside. Now that I'm learning kanji in Japanese 102, I'm hoping to perfect my handwriting by practicing in here.
Foil origami paper — There's a speciality shop that sells nothing but origami! I bought these cute little aqua squares in order to write unique thank you notes for Otaku Journalist-related correspondence.
Omocat "Shota" shirt — I discovered Omocat's anime-inspired designs on Tumblr after seeing Crunchyroll PR girl Sailor Bee wearing one of his shirts. I bought this subtly subversive shirt for John and I to share. It didn't come cheap though; at $30 it's now the most expensive shirt I own, and it was one of the least expensive of Omocat's offerings.
Lucky Star origami kits — Like many apartment dwellers, I don't have a Christmas tree. Maybe this will be the year I finally get a small one. In anticipation, I bought these kits for making larger-than-usual Lucky Stars that come with strings to be hung up just like ornaments.
Korean beauty masks — There aren't any Japanese beauty stores in Japantown, probably because everybody knows Korea has the rest of us beat at the beauty game. You can see Faye Valentine putting on a similar mask in an episode of Cowboy Bebop, but I can't find a screenshot. Not pictured: the one I already tried. It was… slippery.
False eyelashes — These are some of the least dramatic ones they had, without any glitter or feathers or gems, but they're fancy enough to be special-occasion-ready for any evening I want to feel like a K-pop idol.
Purikura! — 13 Secrets to Fluent Japanese tells me that purikura is a Japanese abbreviation of "picture club." I went to Pikapika with two of my coworkers where we tried both an English language and Japanese machine. Our photos ranged from cute to pretty darn weird!
Stuff I bought but couldn't take home: delicious Japanese food like onigiri, pork katsu curry at the anime-themed On The Bridge, and a green tea latte. You can pick up bento lunches and wagashi even at the grocery store there!
Have you ever been to Japantown? What would you buy if you went?
---
More of my Japantown travels: