Otaku Journalist in Japantown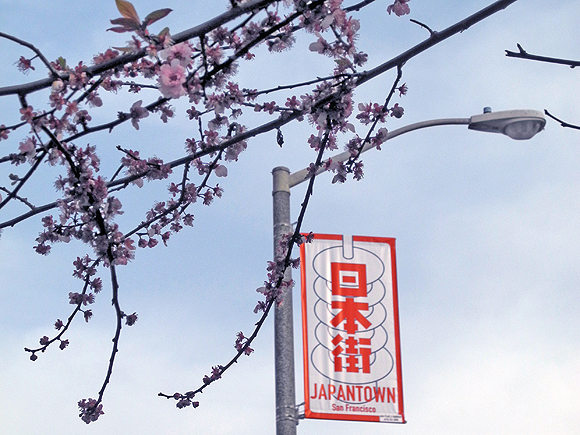 Exactly one week before today, I was standing in San Francisco's Japantown, a six block weeaboo wonderland. It's taken me this long to write about it because nothing I can say will ever live up to how I felt when I was there. There's no way to do it justice, so I'm just going to give you the facts.
I was in San Francisco for business, more specifically, to attend the LiveJournal community leader summit. I Even though it meant missing out on Katsucon, I decided to extend my trip for one extra day so I could finally explore Japantown, a part of the city I'd been dying to visit since I saw it on America's Greatest Otaku. As it turned out, I'd picked the perfect date to do it; Saturday also marked the first day of a local geek convention, Animation on Display.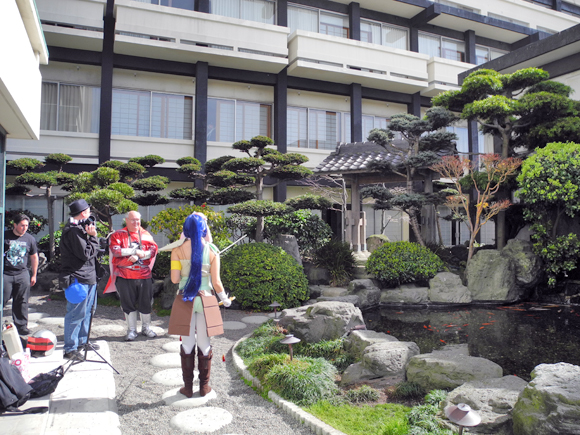 In the morning, I met up at the convention hotel, Hotel Kabuki, with my host, Steven Savage. As I've written before, Steven is a geek career expert and the author of Fan to Pro, a book that changed the course of my career. We've been in touch online for more than a year, but this was our first time meeting in person. Here's us standing in the courtyard pretending like we know each other.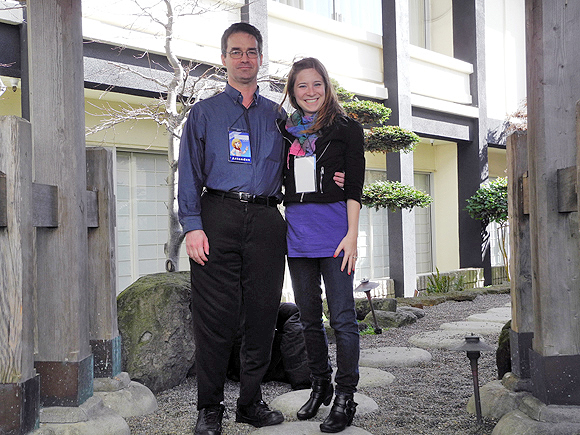 Steven was busy; he presented three different panels that day. (I attended the two on geek careers, and will be recapping at least one.) But he still made sure that I experienced all the essentials of a trip to Japantown, namely, shopping and eating too much.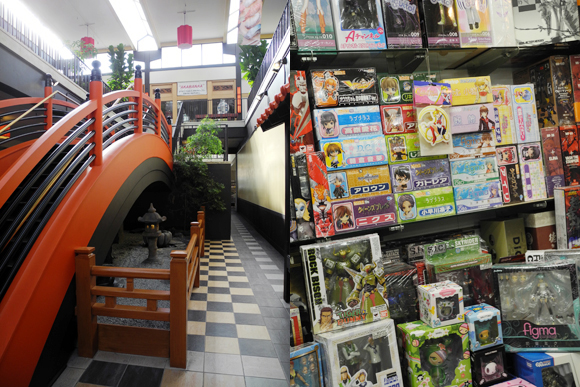 Here's a diptych of photos I took inside the immense mall that connects to Hotel Kabuki and takes up half of Japantown from there. The bridge is usually packed with people, but Steven and I showed up just as the mall was opening up. To the right is a literal wall of figures. You should have seen their Gundam selection!
I've never seen shops as anime fan-targeted as those at the mall. For example, several stores were dedicated simply to manga, and there was a shop that sold cosplay off the rack. Animation on Display was a small convention with about 1,000 attendees, but it was almost as if it was attached to a three-block dealer's room year-round. If we had a place like this on the east coast, I'm sure we'd hold all our conventions there.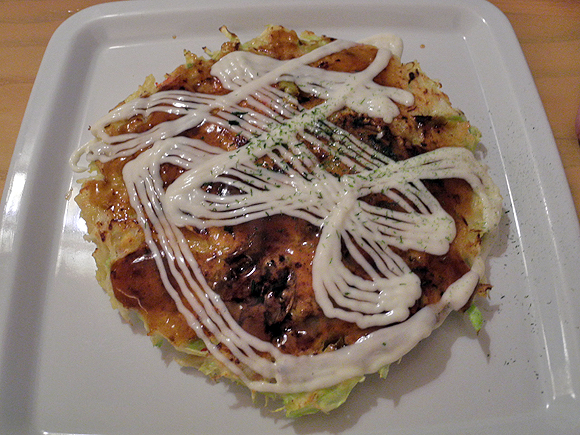 There was no shortage of food options, either. Above is an okonomiyaki, a sweet potato pancake with savory chicken and shrimp, that Steven ordered. I had the less photogenic salmon-ikura donburi and beef curry. I couldn't get over the availability of Japanese snacks either—you could buy onigiri and dango right from a food stand. For somebody who makes her own onigiri at home since she can't buy it anywhere, it was unbelievable.
Probably the best part was being able to mingle with a completely new group of fans. Now that I've been attending east coast conventions for years, I always see familiar faces. At AOD, I was introduced to new people, new panels, and new projects I'd never heard of. I also got to meet some of the bronies interviewed in this Wall Street Journal article.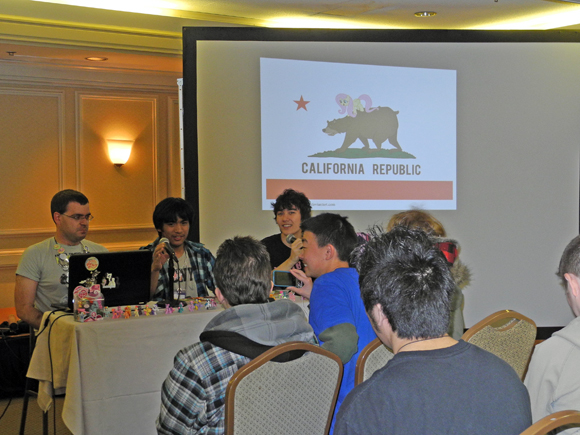 Anyone who's tired of the same old stuff on the east coast should definitely check out what they're doing out west. For example, I loved their idea of holding mixers, super-casual panels for meeting other bronies, for example, or other people with careers in geekdom. (And it goes without saying that west coasters should see what we're doing over here.)
My visit caused me to realize the Internet hasn't yet bridged the different forms fandom takes in different parts of the country and, no doubt, the world. It's worth taking a trip to see the other coast, even if it's not for a bigger con like Anime Expo or Otakon. (In fact, based on my experience, I'd encourage seeing a smaller con.) My physical visit helped me realize that the fans in my area make up just a small part of the global marketplace of ideas.
In conclusion, I certainly hope that wasn't my last visit to Japantown. Until then, check out my photo gallery. I took hundreds of photos, but hardly any of them came out because my hands were literally shaking with excitement. It was an experience I won't soon forget.