Natsume's Book of Friends: A "special snowflake" fantasy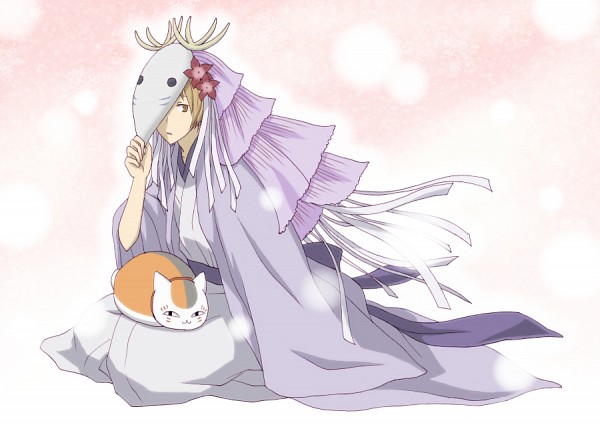 Allow me a moment of narcissism: When I first got into anime, part of the appeal was that liking it somehow made me different. Most of my peers had no idea what it was, or anything beyond that it was something that nerds liked. Distancing myself from my peers didn't make me different. But it was nice to imagine that I had trouble connecting with people because they simply didn't understand how special I was.
Which brings me to my recommendation for Anime of the Century, Natsume Yuujinchou (Natsume's Book of Friends for us English speakers). It's my "special snowflake" fantasy in animated form, placed in a setting that never existed.
Natsume's Book of Friends is set in present day Japan, but in no way does this pastoral, timeless backdrop imitate real life. Technology, even cell phones and computers, are noticeably absent. Natsume lives in a rural, forested area studded with ancient mansions and shrines, the better for ghosts and spirits to run wild. Stories about love, life, and loneliness are animated in an art style reminiscent to traditional watercolors. The soft but lingering musical themes emphasize the overarching lesson—to be thankful for the friends you have. Sometimes it's lighthearted: a relaxing, complete escape, but can suddenly and unexpectedly move you to tears.
When I thought seriously about why this anime resonated so deeply with me, it came back to those early beliefs of mine. It's such a sweet escape because Natsume's struggles with connecting to other people really are because he's special.
For most of his life, nobody really likes Natsume. They think he's weird and creepy, and he kind of is—he has a singular ability to see yokai, Japanese folklore spirits who are invisible to just about everyone else. His parents are dead so he's been passed around to various relatives and schools, none of whom really want to deal with him.
But despite his tragic backstory, I dare you to watch this anime and not wish you were in Natsume's shoes. No matter how isolated he is, Natsume is never lonely. He can see and interact with a menagerie of yokai, most of whom are harmless potential friends.
The "book of friends" itself, a list of yokai names passed down to Natsume from his grandmother, is full of spirits who want nothing more than to seek Natsume out. A major part of the plot is when spirits ask for their names back from the book, a request with which Natsume unfailingly complies. During the process, the spirits' stories are transferred to Natsume, where he learns that the otherworldly love, grieve, and feel just like us.
As the anime progresses, Natsume makes human friends whom he doesn't have to hide his talent from. Instead, they seek him out for it. A classmate who has a latent ability to see yokai, a gregarious exorcist, a girl who heard the rumors about him but wasn't afraid. It's apparent to everyone but his modest, charming self—Natsume is something special.
It's a fantasy for sure, to imagine that the people around us will tear down the walls we put up around ourselves and discover what makes us special. Part of growing up is realizing that this is never going to happen. If you want to make friends, you need to make the first step. If you want something in your life to change, you need to make that change yourself.
And if we needed any motivation, the heartfelt human relationships in Natsume's Book of Friends show us what we're missing every day we don't act.
(Illustration via Zerochan.)