How to turn your fandom interests into a business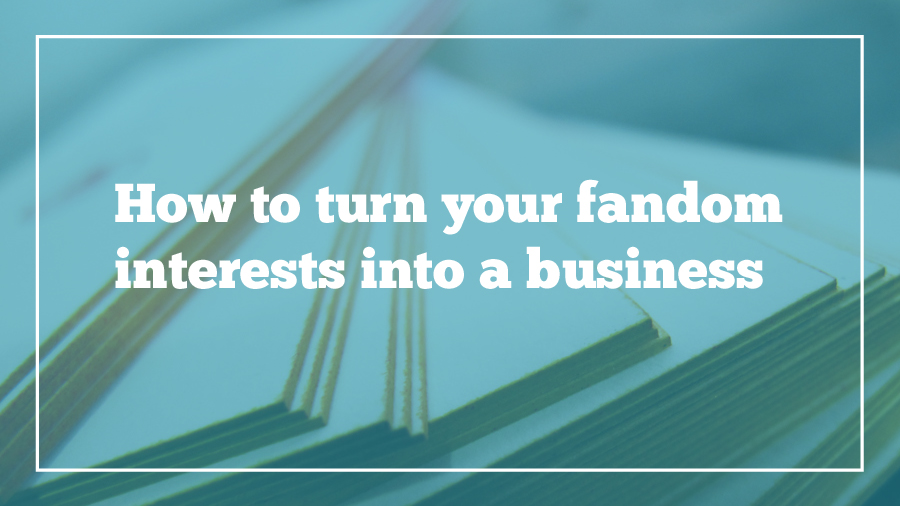 This month, a friend and I started a company called Fanspeak Interactive LLC.
This is technically my second business, after Orsini Bowers Media. But while OBM is really just a legal structure so I can freelance and pay my taxes, Fanspeak is a standalone business with a brand and clients and a mission—to help companies understand and market to fans in a way that's not mocking or gratuitous, but welcoming.
Launching a company felt like the next step in my career in fandom. But at the same time, it was intimidating. I believe that starting a business in the United States is one of the simpler things to do (right up there with getting a gun, unfortunately), but it's still not something people do every day. If you're thinking about turning your skills into a company, here's how we did it.
Develop a business plan
It began last summer, when my friend Aja Romano and I were talking about our careers. We're both journalists with a specialty in fandom—it wouldn't be an exaggeration to call Aja an otaku journalist herself. Aja and I have both written lots about how fandom can be misunderstood. Aja has written about how not to talk about fanfiction, a fan hobby that everyone loves to whale on.
We were once again retreading this favorite topic of ours, enjoying getting righteously indignant about it, when Aja brought up that really, companies should be catering to fans. Fangirls on Tumblr have more disposable income than any other social media demographic. But maybe companies don't realize how to reach these fans other than the most superficial, image-macro-generating attempts. They need guides into this world.
And with that, an idea was born.
Test your idea
Now as it happened, Aja and I were very lucky. The evening we came up with this idea turned out to be the deadline for South By Southwest Interactive, a yearly conference focused on emerging technology companies. Right then, we decided to create and submit a panel for the conference about marketing to fans: Flail or Fail: Marketing to Fandom. We hastily came up with a name, Fanspeak Interactive, and a website, and began moving forward.
The panel got accepted, and even became a featured panel that netted Aja an interview on the SXSW site. But you might notice I'm not involved because I sort of kind of booked a trip to Japan right afterward and knew I wouldn't be able to travel twice in one week. I was actually pretty surprised we got accepted, much less featured! I did my best to encourage Aja from afar. It was a very quick way to test whether there was any interest in a fan-run consulting firm.
Less than a week after the conference, Aja contacted me in Tokyo.
Get some clients
This step happened a bit sooner than either of us expected, I think.
When you're developing a business plan, you should have some basic idea of who your target clients will be. For us, that would be businesses on the smaller side that are interested in expanding their reach with fans.
Perhaps because we debuted at SXSW, however, the companies that first expressed interest in our services were bigger than I'd expected. Some I'd even heard of! We had originally developed a list of services targeting small businesses, but decided to pivot and offer two suites of offerings—less expensive ones for startups and more immersive ones for corporations.
Offerings, by the way, are new to me, too. With Orsini Bowers Media, I charge people a flat rate. $X for a 1,000-word story. $Y for a full website design. But companies prefer packages that allow them to see what they're getting, so a major part of setup was figuring out what we could do and how we could group our abilities into offerings.
Do the paperwork
Of course, all this time we were developing offerings and attracting clients, we weren't really a business, not yet. Fortunately, I live in Virginia, which makes setting one up quickly a stupid-simple process.
First, we had to pick a type of business. I run Orsini Bowers Media as a sole proprietorship,  since I'm a journalist and the First Amendment (freedom of the press) protects me pretty well from lawsuits. But with Fanspeak, there are two members, plus lots of client work. If we were a sole proprietorship and something didn't work out and we got sued, they could take my personal assets, like my car! As a Limited Liability Corporation (LLC), our liability is limited only to what we've invested in the business itself.
That meant, legally, that we had to add LLC to the name, so it became Fanspeak Interactive LLC. By the way, we also had to make sure that this business name was even available and not copyrighted already, so we used the US Patent and Trademark search tool.
Next, we had to submit our Articles of Organization, which in Virginia is a 2-page, $100 form that declares our business name and organizers. What's great is you can fill this out as an e-form and submit it instantly, effectively launching your business in minutes.
Then, we had to register as a foreign entity in New York, where Aja and one of our clients live, since we'll be doing business there. This meant adding an extra form—and $250—to the process, but it will keep us from being double-taxed in both states later on.
I would have stopped here, but luckily, my sister (yes the one I cringingly explain hot anime characters to) is a lawyer. She drafted an Operating Agreement between Aja and I that explains our legal rights moving forward, plus a standard consulting agreement for any contractors we want to bring on to help with new projects and clients if we get overwhelmed. Hiring employees changes any business tax situation, so the main reason for contracts was to ensure that we legally regard any additional help solely as contractors, not employees.
Lastly, we needed to get an EIN (Employer Identification Number) through the IRS, because I'll be damned if I'm going to use my social security number to open a bank account or sign contracts for this company. Fortunately, this process is free and takes minutes.
Stay organized
Now, with all this paperwork to keep track of, we really have to keep it together! That means developing a spreadsheet of expenses (like the $350 it cost to set the company up). It means constantly reviewing and updating which services we want to offer to clients. It has meant several Google Hangouts brainstorming sessions each over an hour long. From here, the most important thing—and the newest thing for this pair of journalists—will be communicating effectively with clients. We can't leave anybody hanging when they're paying us to be there for them.
Really, starting the business was the easy part. The hard part is going to be delivering on our promises in a professional way. It doesn't matter how well we know our stuff—if we don't offer a good client experience, nobody will notice.
This process has been difficult at times, but when I get overwhelmed, I think about how every business began like this. Crunchyroll was some friends who liked to share videos. Right Stuf was founded by just two people. This blog has always been about the idea that if you are passionate about something, and have something to offer, you can find success.
It's too soon to tell if Fanspeak Interactive LLC is going to be successful. Officially, it's only nine days old. But I do know that in our digital age it's easier than ever to try.
Photo via The Mandate Press