How to interview celebrities at a fandom convention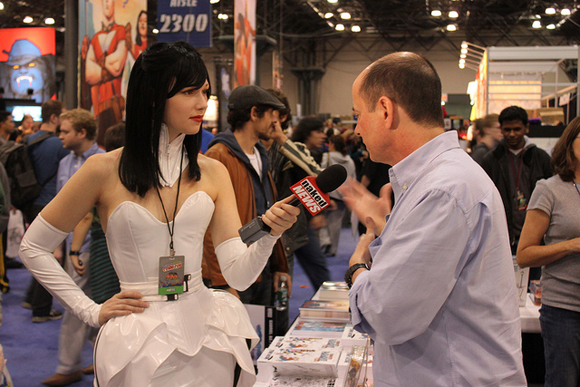 The first big name I ever got the chance to interview was Nobuo Uematsu. The resulting article, Final Fantasy Composer's Chocobo Cosplay Wishes, Avatar Scoring Dreams, is probably the reason I got the opportunity to intern at Kotaku. Make no mistake: landing interviews with celebrities can hugely boost your journalism career.
However, the very attributes that make celebrity interviews appealing to editors are the same things that make them hard to pull off. You have to avoid getting starstruck in front of somebody you might find intimidating. You can't get an interesting article by gushing either; you have to ask the tough questions like you would with anyone else.
As the former press liaison for Anime USA, I've supervised a lot of press conferences with big names in anime, games, and fandom. Based on my experiences both as an interviewer and a supervisor, here are some tips to make your first celebrity interview run smoothly:
Let the convention get you in touch. If the celebrity is attending a convention as a special guest, that means you'll need to work with a press liaison or Guest Relations volunteer to organize your interview. Celebrity guests have busy schedules at conventions—autograph signings, panels, and more. If you try to write directly to Vic Mignogna's agent about his Otakon schedule, he'll be just as clueless about it as you are! Usually writing to [email protected][insertcon].com will get you in touch with the right person to arrange the interview.
If you can Google it, don't ask it. I always cringe when I hear somebody ask an anime voice actor, "What was your first voice acting role?" This is a simple piece of knowledge that anyone could figure out with a quick Google search, or by scanning the celebrity's IMDB page. Make sure to research your subject beforehand and only ask questions you can't find out any other way. A good rule of thumb is to ask the celebrity about her opinions, favorites, and other subjective material instead of readily available facts.
Come prepared. It's important to prep for any interview in advance, but perhaps even more important with a celebrity interview. If you've prepared questions ahead of time, you're less likely to stumble and get nervous in front of somebody you really admire. Remember that 10 questions usually equals about one hour's worth of talking time. It also helps to invest in a tape recorder to avoid misquoting somebody whose public image is especially important to their ability to get jobs.
Be ready to go off script. While it's important to prepare questions in advance, you don't want to be married to those questions if the conversation goes off in another direction entirely. There's a joke I heard in journalism school about a flustered cub reporter carefully sticking to a prepared script of questions:

Reporter: When did you become president of the company?

Interviewee: A few months before I murdered my wife.

Reporter: [sticking to script] And can you tell me about your newest product?

Don't miss the forest for the trees. If your subject is telling you a lot of interesting things about a topic you didn't even prepare for, let her go on about that instead of cutting her off to ask your next question.
There's a time to be a journalist and a time to be a fan. I wrote about this about a year ago, when I attended ROFLcon as a member of the press and got to hang out with the likes of Scumbag Steve and Chuck Testa. You may think it sounds like a compliment to tell the celebrity during an interview, "By the way, I'm a HUGE fan. Can I have your autograph after the interview?" but instead it might put the celebrity, who has to deal with gushing fans all the time, on her guard. A better option would be to conduct the interview normally, and then, once you are off duty, ask for an autograph or compliment her latest film.
Who is the most famous person you've ever interviewed? What was it like? Is there anything you wish you had done differently?
(photo via excalipoor on Flickr.)