How to find your first freelance client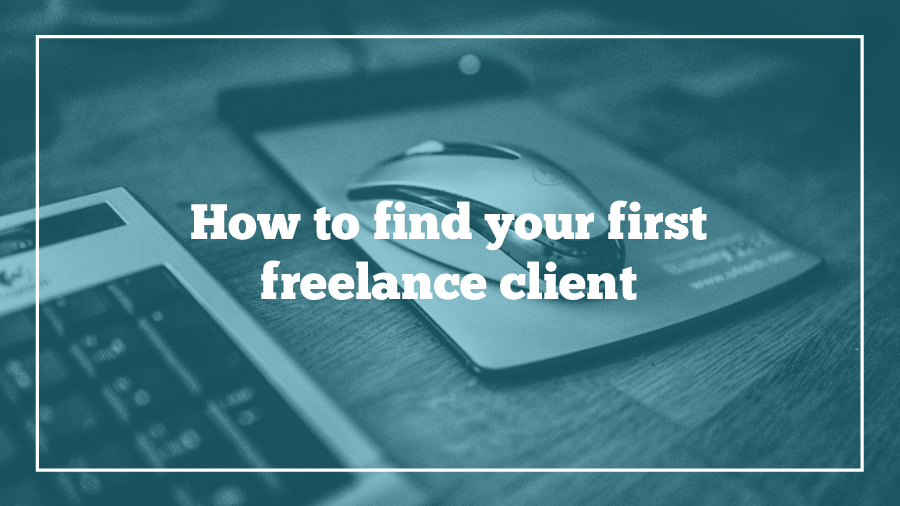 The hardest paycheck you'll ever make in your freelance business is the first.
Going from $0 to $100 is a lot harder than going from $1,000 to $10,000 because you're making something out of nothing. It involves a new mindset. When you're employed by somebody else, your only job is to do well at the assignments you're given. When you're self-employed, you suddenly have two jobs: to do good work, and to find work to do in the first place.
If you're at $0 in your freelance career, I've listed a few places you can start your search.
Get the word out
You might already know your first client. The best way to find out is to write an introductory email to your social circle outlining your product or services. Frame it as an announcement: "Friends, I wanted you to be the first to know about my new web design business," include your new website with a list of ways to work with you, and show people where they can contact you if they or anyone they know might be interested.
This might seem like surprising advice from me considering how outspoken I am against multi-level marketing stuff like Mary Kay. The reason is that they force you to make constant sales pitches to your friends and family in an unnatural (and unfriendly) way. By treating your friends as nothing but marks, eventually you're going to be left with no friends.
Your friends don't want to be your regular income stream, but they do want to see your business succeed. That's why I think one initial email to people who care about you is perfectly fine, and in fact something you'd be remiss not to do. I always ask prospective clients how they heard about me, and some of them are friends of friends, or know one of my college professors, or a previous client suggested they work with me. There's a world of difference between pitching your social circle just once and endlessly exploiting it, and you're smart enough to recognize it.
Embrace social media
I started working at the Daily Dot after then-editor Owen Thomas read an article I wrote and offered me a job on Twitter. (This is also a good example of why guest posting works.)
In 2017, I got several clients simply by checking my inbox on LinkedIn. One of my biggest mistakes early on was ignoring LinkedIn because I thought that just because I didn't have a traditional job, LinkedIn was no longer going to be useful for me. I completely underestimated how many employers use LinkedIn searches to find freelance contractors like me.
Right now, I get the majority of my writing jobs through a Facebook group for freelance writers. My favorite group is women-only, but it can get even more exclusive than that—I'm in groups for just video game writers, or just finance blogs. Editors post what they're looking for and invite writers to pitch to them. In my experience, this can lead to regular, recurring work.
Join a freelancer community
I joined Solopreneur Circle DC in order to meet "coworkers" and get out of the house. Twice a month, we gather for knowledge sharing and/or brunch. I've met business owners who do all kinds of work, from graphic design to real estate to styling hair to styling Instagram photos. Some of them make a lot more money than me, which is highly educational in its own way. All of us have stories about dealing with clients, dealing with taxes, or which bookkeeping software to use, so being in a community has helped me refine my business a lot.
It's also grown my business through new income. Since we all have different lines of work, it means that we frequently pass clients to one another. I had a web design client who needed a print pamphlet designed, so I forwarded her to one of the entrepreneurs I know. A logo designer was asked if she did website maintenance, and since she didn't, she recommended that client to me. I still do regular web upkeep for that client today.
Local communities are great because what we have in common is our location instead of our profession. That means I have a local network of business owners who know to recommend me, and I always have a specialist to recommend to clients who want a service I don't do.
In the meantime: Passive income
Later, when your freelance business has taken off, you're going to reflect fondly on those days you had so much free time. I think this is the perfect time to work on something that requires a lot of initial unpaid work, but then generates income for years to come. I'm talking products like my Niche Journalism Workbook, or books like Build Your Anime Blog.
The workbook took me a week to build; the book took me two months—and it's not like that was the only thing I worked on during that time. I didn't get paid while I wrote either of them, but I still sell copies of both years later. And since both of them include a call to action in the back about other products I sell and other ways to work with me, they sometimes lead to repeat customers who, after reading, decide to work with me as a web designer or copywriter.
Sometimes your passive income product can also serve as a portfolio. If you're a writer, your ebook can prove your impeccable grammar. If you're a web designer, a downloadable theme (like my free Asuna) can prove you can actually code. It may feel like you're doing it for nothing at the time since you're not getting paid, but it'll be something you can sell forever.
I started freelancing full time in January 2013. It took until April 2013 for me to be able to pay my bills with it (instead of just drawing from my savings). I know you can turn that $0 into a sustainable source of income. You just need to know where to look.