How to find the fandom skills you already have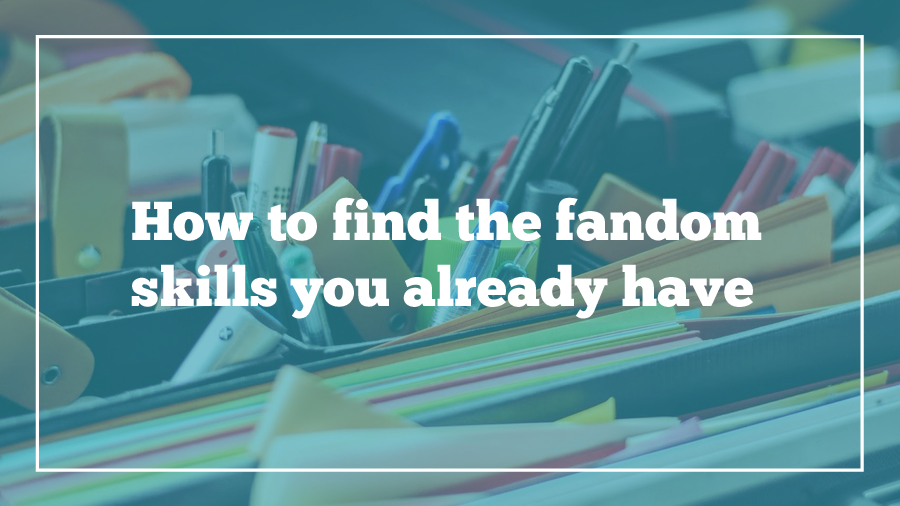 Do you mind if I brag a little bit? Because the company I started is really taking off. We already have gotten three clients in a week, and we have an introductory meeting this week with a company you've definitely heard of.
This quick demand has reinforced my belief that fandom is a valuable job skill. If you're like me and you want a career where you can be yourself, I have good news for you. Though admittedly, it took me a long time to figure it out.
I graduated from my masters program in journalism at the height of the Great Recession. None of my internships materialized into jobs, and neither did any of the initial places I interviewed.
I regrouped to my parents' house, got a job ringing up patrons at the local gym, and got my resume ready for Plan B. I couldn't figure out what I was doing wrong. After all, I had made sure to carefully hide any indication of my fandom interests on my professional material.
Boy, I couldn't have been more wrong. Because when I finally did get jobs, they all were because of my fandoms:
I got my first office job as a web designer because my interviewer liked the page and graphics I designed for my anime blog, Otaku Journalist.

I got my job at the Daily Dot, specifically to cover the online fandom beat.

I got hired at ReadWrite because the editor in chief was my former Daily Dot boss, and he needed somebody he knew could do online community coverage.

I got my web developer job through a friend I met at Anime USA.

And of course, my consulting company is based on the knowledge I have accumulated by existing in fandom communities and understanding how fans think.
I went from hiding my geeky interests to building a career off of them. What people, including my younger self, fail to realize is that everyone's a fan of something. Sharing your hobbies makes you more relatable. Sure, there will be some employers who will be turned off by your fandom, but do you really want to work for them anyway? Smart employers know that if you've dedicated a big chunk of your life to an interest, you've probably picked up some skills on the way:
If you write fanfiction: You are regularly improving your spelling and grammar. You can edit. You can take criticism well and use it to improve.
If you draw fanart: You have visual thinking skills. You have art skills and possibly technology skills (using a tablet or Photoshop) as well. You can take a concept and make it your own.
If you cosplay: You know how to tackle big projects, one piece at a time. You can turn a photo into a physical, fabric form. You're detail oriented.
If you have an anime blog: You can stick to a schedule. You can use content-management software. You know how to attract and retain an audience online.
If you volunteer at cons: You're organized. You know how to work well with a team, or may even know how to lead one. You believe in the importance of giving back to your community.
To get you started thinking of the skillsets that your fandom has given you, I've written up a worksheet to help you brainstorm. I suggest sitting down for 20 minutes and really thinking on the fandom career skills you may have been neglecting to market yourself with.
Get the PDF
Definitely share the results of your exercise in the comments if you are so inclined. I'd love to hear if this changes the way you think about your career.
Photo by Tim Gouw