How I'm preparing to take maternity leave as a freelancer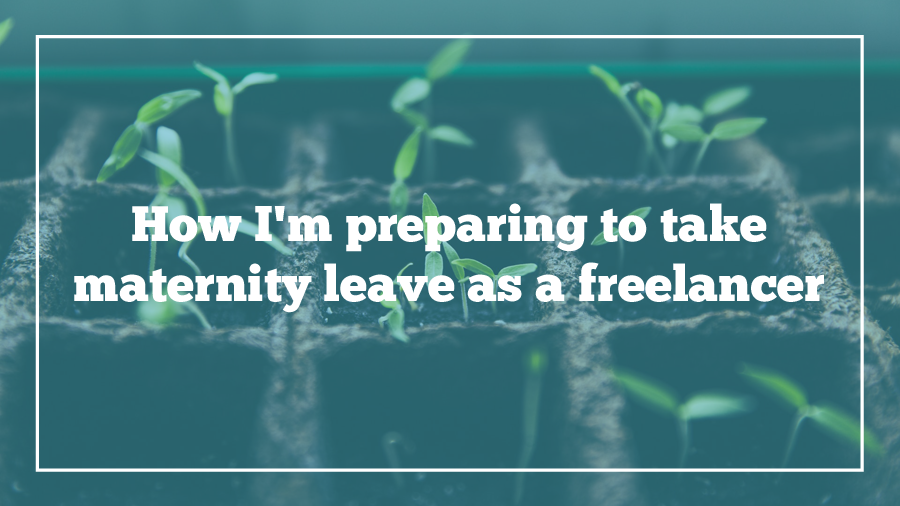 I'm over halfway done with being pregnant, and it's starting to feel extremely real. At Anime Boston, I didn't have to tell people I was pregnant for them to guess (though of course, nobody said anything until I said it out loud, because you should never assume). If you ask me to put your hand on my belly, you might feel her kick. She kicks a lot! I feel like a Gundam occupied by a small, angsty pilot. I hope this means she'll be a protagonist.

Even before I started showing, I started planning out What Happens Next. I have a lot of experience with newborns for somebody who still decided to have a kid anyway. I'm not going into this blind; I know that I'm going to be out of commission for weeks. Survival mode, barely rested, "I put on a clean T-shirt and that's my work for the day" kind of thing.

In most nations, this is a given and often built into a country-wide healthcare plan. Here, not so much. I covered this last summer when I ghost-wrote How to Survive Unpaid Maternity Leave in America for GoFundMe (you will just have to trust me as my name isn't on this), and I actually cried frustrated tears while writing it. I interviewed several moms who have been screwed by their workplaces' leave policies or lack thereof. I was acutely aware that my own plans to start a family would be intrinsically tied to this struggle. Additionally, the central message of this GoFundMe-funded piece still wasn't a solution I wanted to pursue unless I had to: "Why not use our platform to beg your friends and family for money?"

I'm due in early September, so I'm planning to take that month and October off from work. As I get bigger (and more tired—nobody talks about this!), here are some of the ways I'm getting ready to take all that time off:

Figure out my finances

First off, I have to say that being on John's insurance and living in a two-income household is a huge help. I hope I've never been misleading about how much more I'd have to pay in Virginia if I were responsible for my own freelancer health insurance instead. I'll say that one of the more affordable options here is eHealth, which is around $300 a month.

John's healthcare covers my doctor's appointments (of which there are many), but it does not offer life insurance, which is recommended for pregnant people. I looked into a few policies, but since pregnancy is a "preexisting condition," it is pricey! So I decided to just go without. John and I joke that he can just order a bargain-rate funeral if something happens to me.

Maternity is not only a preexisting condition but in some cases, also a short-term disability. In Maryland as well as in Washington, DC beginning next year, pregnant people can apply for a short-term disability program, and if they are approved, receive a stipend during their leave. Virginia doesn't have anything like this, and with another income in my household, it's difficult to tell if I would qualify for it even if I applied. But I made sure to check anyway. (The answer is no.)

One way I am keeping costs down is by buying a lot of items for the baby secondhand. I joined a Facebook group for parents to reuse and recycle items and have gotten a few items for free or around $10. Since babies are only babies for so long, they quickly outgrow their nursery furniture—and after just a year or two of wear.

Find a replacement

NOTE: I AM STILL LOOKING FOR ONE! If you look at my work and think, "Hey, I could do that," and are available during Eastern Standard Time, please reach out. Update, July 30: I found one!

When I found out I was pregnant, I told John first, my family second… and my clients third. The good news about being self-employed is that I don't have to ask for permission; I just let them know I have already decided I will be taking two months off. (The bad news is I have zero job security, and there's no guarantee anyone will take me back after that time is up.) I usually work a revolving door of gigs in which some clients don't contact me for a month and then need me a ton the following month, so this won't be all that different from usual.

How will the world ever survive without me for two months? Just as well as always, I am sure. But one of the clients I work for most often is looking for somebody who can take over my tasks—blog post and press release writing, copyediting, WordPress website upkeep, and PowerPoint presentation generation—while I'm gone. The job is remote, but you'll need to be available to work during EST business hours, around 9 to 5 EST. If my client is happy with the work, they might keep you around far longer than two months!

Keep my expectations low

One of my favorite posts on maternity leave is Jen Dziura's A Not-Very-Relatable Post About Taking Zero Maternity Leave and Doing All the Things and Everything Working Out Just Fine. Obviously, as somebody preparing to take leave, I don't find it relatable but I do find it impressive! Kudos to Jen for being able to balance her business with literally giving birth. This post, more than any other, reminds me that having a baby is a totally different experience for everyone, and there's no prescribed process.

I have no idea what my life will be like as a parent. I haven't figured out childcare or even decided on a name yet. I am bringing a baby into a terrifying world where unvaccinated morons could make her sick, where kindergarteners carry bulletproof backpacks, where students are demonized as political radicals and saddled with tons of debt. So to keep my sanity I'm just trying to take things a few days at a time. This plan is fairly minimalist for that reason.

One of my most helpful resources has been hearing from freelancer friends about their experiences taking extended leave—and not always family leave, either. I've known small business owners who blocked off their client calendars in order to devote a month to writing a book or for international travel. The plus side of freelancing is this freedom to choose how you will budget your income and spend your non-work hours. Everybody does it differently, which is a big reason why I wanted to share my plan: because friends' stories have shown it is possible to leave for months and come back! I plan to be transparent about what those two months away from work are like, but I'm keeping my expectations so low that I am not even going to promise a blog post during that time. My "work" on leave will be keeping a baby and myself alive.

This is the longest Otaku Journalist post I've written this year, but I still have so many thoughts about this topic, and far more questions than answers. If you've ever taken an extended leave as a freelancer for any reason, I'd love to hear about it.
Lead photo via Markus Spiske from Pexels