How a blind fan watches anime: An interview with TJ Olsen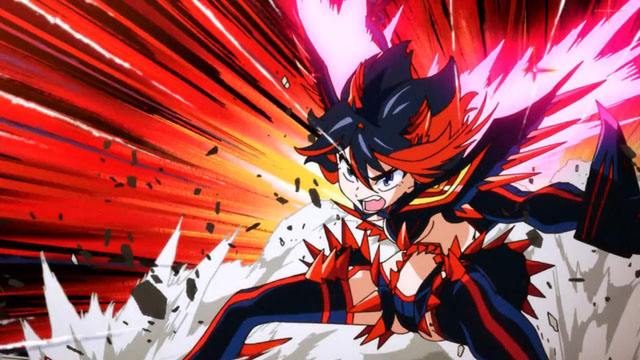 When I asked TJ Olsen, a music promoter and anime fan, to talk about his experiences watching anime, he was a little surprised that I was at all curious. "I never considered that my experience was all that different," he told me.
I disagree. TJ and I like a lot of the same shows, but since he's blind, he perceives our favorite characters with audio cues. We spoke over the phone last week about anime, accessibility, and Kill La Kill.
---
Otaku Journalist: Have you always been blind?
TJ: Yes. I have been blind since 11 months of age. I lost my vision due to retinoblastoma, which is a form of retinal cancer. I've lived my entire life completely blind.
OJ: When did you first get into anime?
TJ: Age 12 or 13 if memory serves. I first got into anime through some of the early shows that were on Toonami. I'm 27 now, so this was about 13 years ago, when they started airing actual anime. Dragonball Z, and eventually Gundam Wing, and things like that. I began delving further into it, collecting DVDs and things like that. There still to this day is a gigantic bin of anime DVDs with braille labels sitting in my closet.
OJ: What are some of your favorite anime right now?
TJ: I'm really enjoying Kill La Kill, I find that to be very entertaining. I've been watching a lot of my old favorites like Rurouni Kenshin, .HACK//Sign, and Escaflowne. Haven't really explored too much into newer stuff yet, though I got recently reinvigorated once I signed up for the Funimation streaming service. I've also just started watching Black Butler.
OJ: As somebody who only watches dubs, what do you think of the fact that Funimation is putting out dubs almost as quickly as subs right now?
TJ: That is fantastic. I'm going to start watching Maria The Virgin Witch, which they just started dubbing. That looks really interesting.
I think Funimation's dubbing is really amazing because I signed up for Crunchyroll briefly with the trial but realized, "Oh, it's nothing but subs. It's not helpful."
OJ: What could Crunchyroll do to become more accessible to blind people?
TJ: The only thing I can think of is if there's a way to make the subtitles computer readable so they're not part of the image but actually textual. I'm not technically inclined enough on the video side to know how feasible that is. But I know there is a technical standard that allows for that to exist in some form.
OJ: Let's go back to Kill La Kill. What do you like about the show?
TJ: It's just kind of goofy and weird. I think there's a lot of social commentary in it, like there was in FLCL as well. It's totally of out there, but if you actually think about it, it's snarky and interesting.
OJ: Have you heard anything about the outfits they wear in Kill La Kill?
TJ: I'm gathering they're rather scantily clad based on some of the descriptions, the comments made in the show. That's also kind of cool—the other cast members are breaking the fourth wall and saying, "Wow, the way you're dressed, that's kind of absurd."
I think, at least the way that I'm interpreting the show, that it's largely mocking that aspect of anime [in which characters are often scantily clad]. I've always liked satire and social commentary in all its forms, which I think explains my tastes. When I first got into anime, it was largely because the storytelling was so much more intricate and interesting than I found a lot of American television to be at that time.
OJ: Do you know any other blind anime fans?
TJ: I know other people who are casually in it. I know a few vision-impaired people who are. I don't really know a lot of other blind people in general. I know a handful, but it's never been a large part of my social circle.
OJ: Do you ever watch anime with seeing people?
TJ: I absolutely do. My roommates are very into anime and a few good friends of mine are.
OJ: Do you think your experience watching anime is different from theirs?
TJ: I think to the extent that I'm relying mostly on auditory cues, my experience watching anything will be different. To a point. I think we're all still absorbing the same content, but our primary means for getting that content differs. Your experience interacting with the world around you at large will obviously be different. I think a subset of that will come into the way you consume media. I don't think it's any more or less different than anything else.
---
Read more interviews with anime fans on Otaku Journalist: