You've put a lot of work into making your blog awesome.
Now it's time to make it profitable.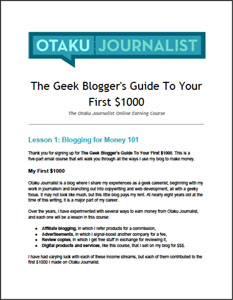 Let me make myself clear: getting rich just from blogging is a very rare thing. Earning a portion of your income, however, is not only doable, it's realistic!
And yes, you can make your blog profitable without being sneaky, scammy, or scummy about it. 
I make hundreds of dollars a month blogging, while giving away most of my writing for free. Some people don't even realize that Otaku Journalist generates income!
I created the Geek Blogger's Guide to Your First $1000 because I know this is something a lot of bloggers struggle with. It's a struggle between income generation and keeping your readers happy, but I have first-hand experience with figuring out how to find that balance.
There are five lessons in the Geek Blogger's Guide to Your First $1000 which cover the real techniques I used to make my first $1000 as a blogger, and how I continue to earn:
Lesson 1: Blogging for Money 101
Lesson 2: All About Affiliates
Lesson 3: Working With Ads
Lesson 4: Getting Review Copies
Lesson 5: Digital Products and Services 
Sign up to take this free course by signing up for my newsletter. That means that aside from the course, you'll receive sporadic, helpful blog updates—plus a first look at other courses and products I'm working on.
Ready to get started? Click the button below: