Announcing 7 Ways To Build Your Geek Dream Job!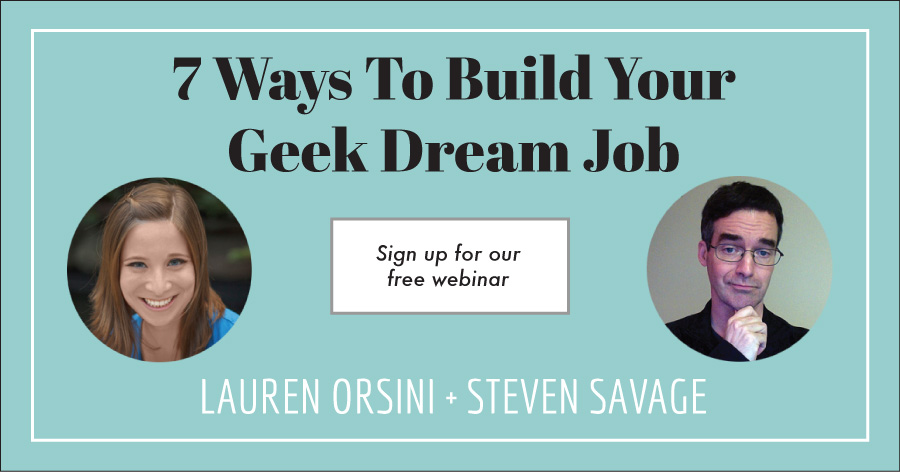 A few weeks ago, I did 10 one-on-one consultations with newsletter subscribers. It showed me that there's only so much you can convey with a blog post. Sometimes the best way to share advice and ideas is actually speaking about them.
But since I'd wear myself out doing endless individual chats, I got together with my geek mentor, Steven Savage, to devise a happy medium. What if we joined forces to share our geek knowledge with a group? During our live webinar, visitors will be able to instant-message us questions in real time.
At 7 Ways To Build Your Geek Dream Job, Steven and I will discuss our seven-module blueprint for turning your hobby into your career—something both of us have done successfully. We come from different generations of geeks, so we're hoping this webinar proves this is a process that works for all ages.
Sign up now!
The webinar is free, but we're having people sign up for it since the chat function does have a limit. Reserve your space as soon as you can! When you submit your email, you will also be signed up to hear about a special offering for viewers from Steven and I. Also, that course I've been hinting at? Show up to find out more about it.
I decided to follow my otaku journalist dreams while reading Steven's book, Fan to Pro, during my hour-and-a-half commute to a job I wasn't that interested in. Just a few years later, Steven wrote the introduction to my first book, Otaku Journalism. There's nobody out there who has had a bigger effect on my decision to pursue a geeky career than him, and nobody else I'd rather give this webinar with.
Our webinar will be on Sunday, November 8th at 9am Pacific, 12pm Eastern. Hope to see you there!