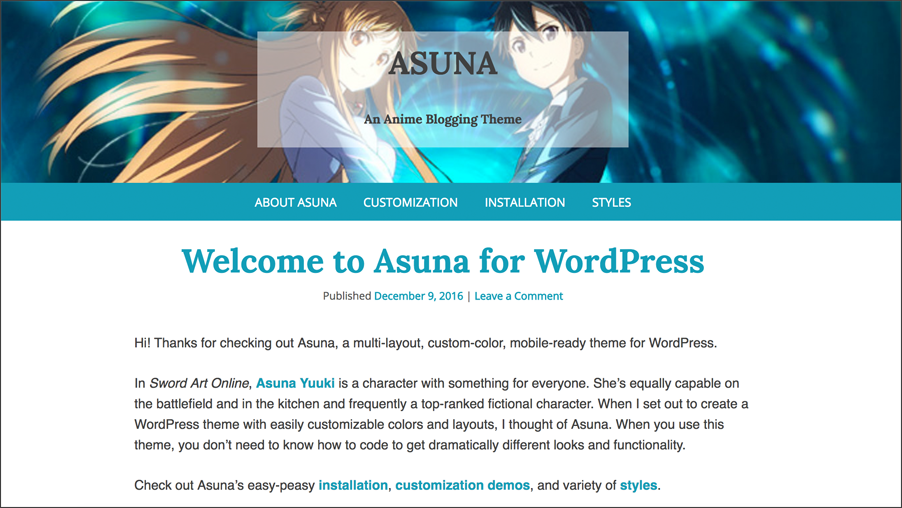 Kicking the week off with an announcement about a brand new thing for you: my first premium WordPress theme, Asuna. Named for a generally likable character, Asuna the theme has something for everyone with intense customization features that offer three layouts and thirteen color change options for a near-infinite number of looks. Naturally, she is also mobile-ready, utilizing the WordPress Twenty Fifteen mobile menu designed to be reachable with just your thumb.
The story of Asuna begins in September, when I was building a new affiliate blog and realized I was going to need to code an entire child theme to establish all the new styles I wanted to add to its overall look. I thought, what if bloggers could implement a lot of out-of-the-box customization options without writing any code at all? It's not just a plus for blogging beginners, but for people like me who don't want to design a new site every time they want to start a blog.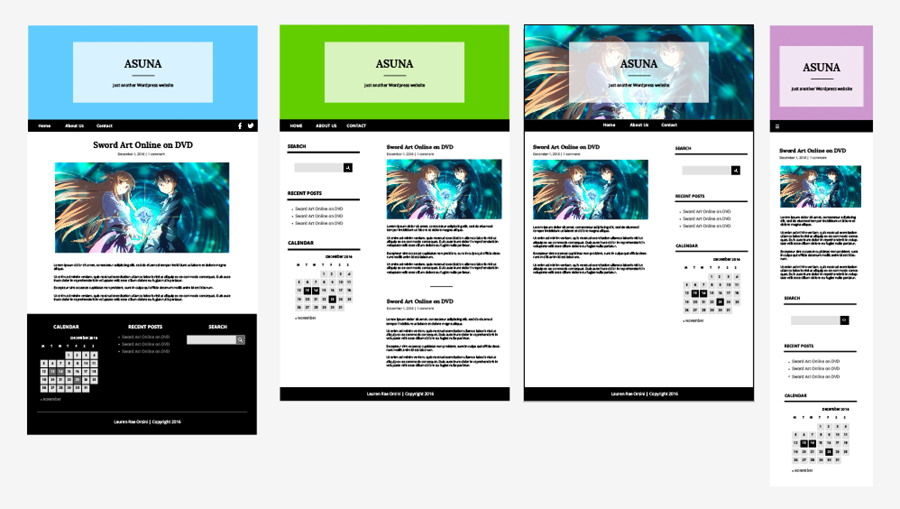 This is the initial design I came up with in Illustrator. I wanted to have multiple layouts and a mobile version out of the box. I liked bold black lines, but eventually realized that it'd be more convenient if users could change those areas to any color they liked. Check out the customization page of the demo to see how easy it is to alter the final product. And you'll probably want to, since I am selling it with just some basic colors and no image attached—I'm not entirely sure I can legally sell a WordPress theme with a picture of an anime character on it.
Even so, I wanted first and foremost to build something for anime bloggers since I'm one myself. The result is a theme that doesn't make you worry about its maintenance or looks. It allows for big responsive images and all three layouts have wide blog areas that put your writing first.
Nobody codes a site alone, and I have plenty of thanks to give to the people who helped me dream up a premise and bug-test. The way these people were there for me, I'd like to be there for Asuna buyers, so definitely let me know if you have any questions or comments about the theme. I plan to release more themes after this one (all named after anime characters, of course) so your suggestions may end up inspiring my next design.
This is a really exciting day for me! I've built lots of theme customizations but this is my first theme from scratch. I used a very basic platform called Underscores to get started, and the rest came out of my brain. Working as a developer for a year definitely gave me the confidence to get more technical. More than anything, Asuna was a joy to build, something that had me obsessively tweaking even on Saturday night. Check it out and see if you like it, too.
P.S. I'm also taking this opportunity to soft-launch my web design business, which will launch officially in 2017. If you've ever been interested in working with me, here's how to do that.